If you've configured everything correctly you should see something like this once you're connected: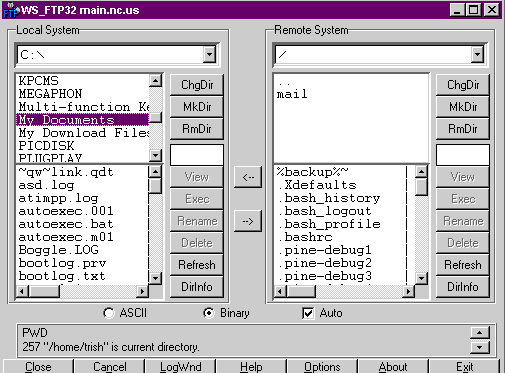 This is the interface through which you will transfer the web files you've created to MAIN's server to get your site on the World Wide Web.

Let's look at the WS-FTP interface. On the left side of the box you see "Local System." The local system means your computer, and through the local system side of the WS-STP interface you'll be able to browse around and find the files you want to upload. The pull down menu just under the words local system is a menu for your computer. Check and see what path is there now. On the example I'm currently in the C drive of my computer.

Just under the local system path you'll see the field is broken into two frames. The top frame is a list of all the directories or folders in the C drive, followed by a list of all the other drives on your computer. For example if you have a 3 1/2" disk drive, you would see "[a]" under the list of directories representing this drive. The bottom frame is a list of all the files, not stored in any specific directory or folder on the C drive. Double-click on directories or other drives to open them and explore their files.

On the right side of the WS-FTP interface is the "Remote System." This represents the location on MAIN's server where files for your account are stored. In the path field just below the words "Remote System" you should see the path "/".


<< Previous Page
Next Page >>