Connecting to MAIN:
If you are not already logged onto MAIN, the "Connect To MAIN" window will appear. If WS-FTP doesn't automatically begin to connect, click "Connect" (or "Dial") in the bottom left hand corner of the window.
If you've configured everything correctly, you should see something like this once you are connected: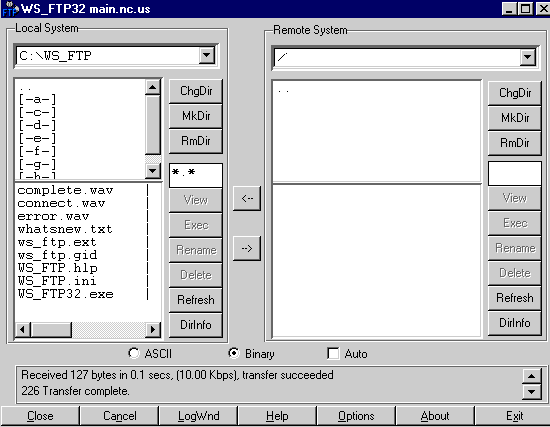 This is the window where you transfer web files you have created from your computer to MAIN's web server.

Locating your files on your computer in WS-FTP:
On the left side of the window you see "Local System" at the top. The Local System shows what is on YOUR computer and with it you will be able to navigate around your computer and find the files to put on our server. There are three boxes on this side you will be using:

The top box on the Local System shows the path to the current location WS-FTP is looking at on your computer. c:\ is usually your hard drive. In the illustration above, the path shows
c:\ WS_FTP
which means that you are starting at the c: drive and are now looking in the WS_FTP folder.

The middle box is a list of all the hard drives or other devices connected to your computer. For example if you have a floppy disk drive, you would see "[a]" under the list of directories representing this drive, like the illustration above. To move from
c:\ WS_FTP to the
c: drive, double click the two dots at the top of the second box (. .)

The bottom box is a list of all the files and/or folders of the location you have specified in the top box.

Double click on directories or other drives to open them and view a listing of their files. This is how you locate the folder where your website files are.

<< Previous page
Next page >>