HOME
Fungal Terms

Fungal Index
Fungal Types:
Gilled
Boletes
Brackets
Puffballs
Chanterelles
Stinkhorns
Coral Fungi
Jelly Fungi
Unidentified Fungi
---
Use the 'back' button on your browser to return, if necessary.
| | |
| --- | --- |
| Most fleshy mushrooms tend to arise from the forest floor. | |
| | |
| --- | --- |
| | |
| While the above may LOOK like a puffball, i'm including it here to make sure people realize that identifying (and subsequent eating) of mushrooms is a concentrated and dangerous affair. It is actually a very poisonous Amanita button that when very young that just looks puffball-y. | |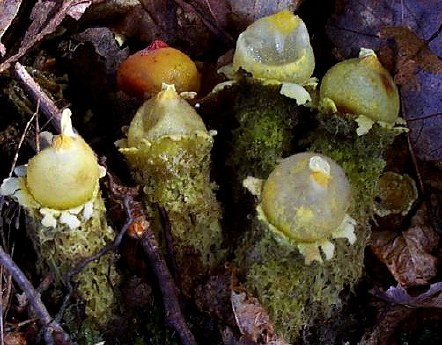 Also, not all Puffballs look quite LIKE Puffballs. These are probably stalked puffballs of the order Tulostomatales, where the puffball seems to 'sit' on a material different from the ball itself. Pretty alien when you look at these things with a magnifying lens, but they are fairly common in these woods.
---
OFFSITE INFORMATION:
A great general mushroom site is Tom Volk's Mushroom Page, and is in association with the University of Wisconsin at LaCrosse. He has over 1000 jpegs of mushrooms and a lot of science. Check out the 'Fungus of the month!'
If you're interested in joining a mycological club, there's one here in Asheville - The Asheville Mushroom Club.