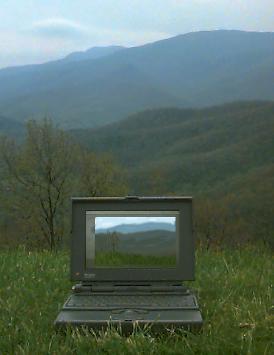 Computing in the wild, or eNature.
Done with a Macintosh, of course.
NATURALLY
I hesitated to use the word 'naturalist' in the title, because that's too strong a word for what i am, or do. I love nature, observe it, record my thoughts about it, and the three are intertwined. I guess the difference is i don't make any money, or get nasty e-mail from scientists, doing it.
PHOTOS
Unless noted prominently, all pictures on this site are taken by me in my meanderings around WNC. I use a Kodak DC-120 camera and a Macintosh computer. The images are not altered in any way other than some brightness and contrasty stuff that would normally done in the darkroom of a real photographer. The picture to the left might have some unnatural enhancement, however.
ERRORS
I strive for correctness, but because i'm an amateur, i'm going to make mistakes. I can only learn from those mistakes if people are kind enough to point out my errors. Please, please, if you find wrong or misleading information anywhere at this site (especially the plant and identification areas), please e-mail me. Did i mention please?
THOUGHTS ABOUT IT
This site is love-work. I sometimes rely on friends to urge me in different directions, but i'd be out in mother Nature's garden anyway. I also do computer graphics for a living, and so it seems this is just an easy extension for me. I hope you enjoy browsing, and take the time to smell the sassafras root.
DISCLAIMER AND COPYRIGHT
Under no circumstances is the information contained on this website to be used to positively identify plants that are eaten, rubbed on yourself, or fed to your dog. The same goes for things i do, such as petting bumblebees. That's irresponsible, and your problem. However, as a springboard to learning more about the plants of the Western North Carolina mountains, this site is intended to be a good start.
All photographs, graphics and pictures are copyright zen sutherland and may not be used without permission. Ask anyway; i'm a nice guy.