Roddy Capers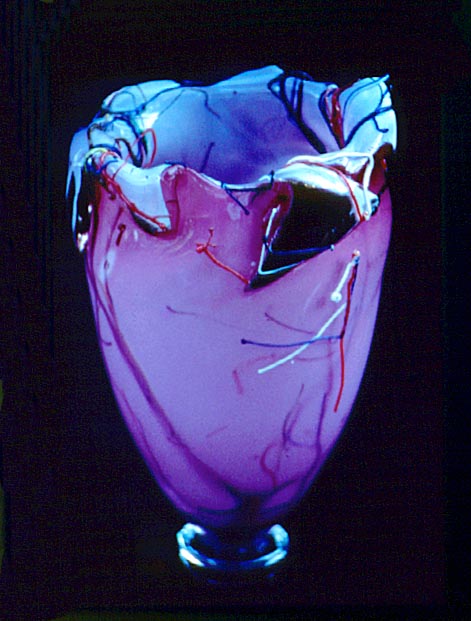 "Blown Glass"
18" x 9"
white interior pink exterior. Reduction firing to bring out silvers. The piece is cut open, folded out and has color glass cane welded to it inside and outside.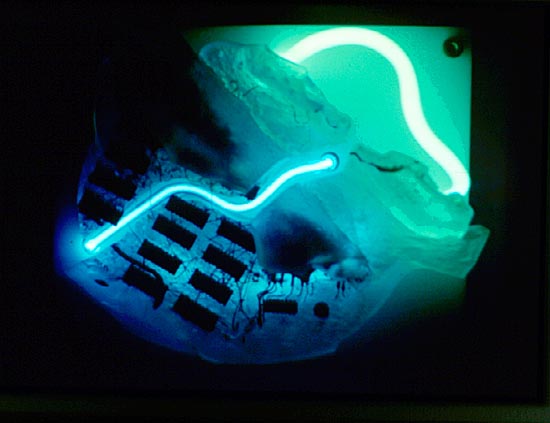 "Multi Media Sculpture"
6" x 14" x 14", wall mounted
cast glass, neon, stainless steel, plexiglass, integrated circuits, sandblasted



---
Art can be a mysterious journey. Just as there is more to a map in actual terrain than what is charted on a map, there is more to art than what is physically seen. The more open the imagination is in viewing the art, more possibilities are seen underlying the surface. The deeper the investigation, the more it defies a label.
Glass is a mysterious medium. It is the ying and yang...it is hot and liquid, cold and solid, hard edged and transparent thickness or gaze at its think opaque form, from functional utilitarian crafts to nonfunctional abstract art, it has mesmerized us now just as it has for thousands of years,
Glass is the primary medium which I chose in my investigation of form and content. By taking risks and making mistakes along the way. I have gained insight and knowledge and now endeavor to illustrate that personal journey. After all, it is the mystery which draws us in to take chances.

Contact Roddy @ 828-255-0187.



Back to home page