Home / Help / MAIN Account Maintenance
To maintain your account on MAIN, please choose the county in which you have an account below. If your county is not listed, please contact the Help Desk for assistance managing your account.
Connecting to the Server
Once connected to your county server, will need to "Log In." Type your username at the prompt that says, "Login:" and hit Enter. You will now be prompted for your password. As you type it, you will not see any of the characters appear on the screen. This is normal. Make sure that you do not have Caps Lock on while you type, usernames and passwords are "Case-sensitive." Hit Enter after typing your password.
Navigating the Menu
You should now be Logged in. You will see a screen that looks like: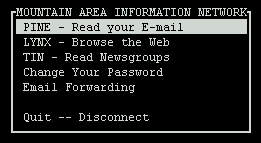 You can use your up and down keys to highlight options on the menu bar. Hit Enter to chose an option. The options are:
PINEŽ - a Program for Internet News & Email - is a tool for reading, sending, and managing electronic messages. Pine was designed by the Office of Computing & Communications at the University of Washington specifically with novice computer users in mind, but it can be tailored to accommodate the needs of "power users" as well.
LYNX - is a fully-featured World Wide Web (WWW) client/browser for users in text only environments. Lynx allows users to surf the web in a non-graphical setting.
TIN - Tin is a powerful text mode news reader. It features threaded news group reading. By default, Tin will read newsgroups from MAIN's news server, fullnews.main.nc.us.
Change your Password - You will be prompted for your old password. Type it, and hit Enter. Then you will be prompted for your new password. Type it in, then hit Enter. You will be prompted to type it again. Do so, and hit enter.
Email Forwarding - You are able to forward your mail to any other valid email address, or delete a forwarding order by using this option. Follow the on-line instructions.
Trouble with Telnet?
NOTE: The telnet links will only work on "Java Capable " browsers. Most newer browsers are Java capable. If in doubt about your browser, give the link a try. You should get a warning stating that your browser is not Java capable.
If you do not have a web browser that is Java capable, you will need to download a telnet client program to your computer (We suggest Ewan for Windows 3.x, Windows 9x or 2000 and NCSA Telnet for Macs).