Home / Help / FAQ / Recovering "lost" buttons in Internet Explorer
Internet Explorer, versions 3,4, and 5 all allow the user to adjust the icons and features on the Tool Bars. These tool bars are:




While this ability to adjust the toolbars may be good for those that aware of the feature, sometimes people find that they have moved the bars by mistake. The new configuration of the bars then makes easy navigating of the Internet impossible or blocks them from accessing their mail.
Solution One:
First, center the cursor arrow in the middle of the webpage you are currently viewing, and then slowly move the arrow up toward the toolbars at the top of the screen:




When you cross the border from the webpage to the toolbars, your arrow will turn to a bar with arrows pointing up and down like:




Now, Click and hold the left mouse button down, and "drag" the toolbars down toward the middle of the webpage. Once you can see all the buttons, let go of the left mouse button. You should now have your buttons back:



Solution Two
If solution one did not work for you, you probably don't have the bars turned on. Go to "View", and down to toolbars: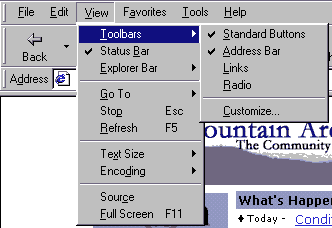 If an item has a check by it, it is enabled and viewable. If an item doesn't have a check next to it, click on it to enable it. You may have to go back and use Solution One after using solution two.