More friends of MAIN...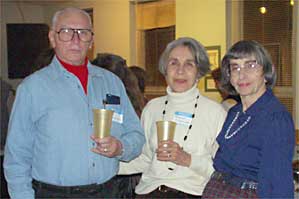 Above: MAIN volunteer John Sticpewich and his wife, Margaret, enjoy the party with MAIN supporter Leah Karpen (right).

Below: MAIN's new Webmaster, Satchel Loftis, his wife Catherine and son Miles (left photo) were among the merrymakers at the community network celebration. (right photo) Gary Gumz, Nancy Todd (left) and Hara Sitnick (right) enjoy the fellowship of the annual celebration.
Right: Ian Booth (right) of the Sustainable Living Institute and Gary Gumz of the Appalachian Sustainable Agriculture Project exchange notes at the annual celebration.