Conservation in the Real World
ATV's and Conservation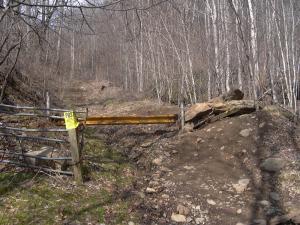 Off-Road Vehicles (ORVs) --including dirt bikes and ATVs -- have threatened to turn the natural wonders of the Long Branch Center's protected areas into motorized playgrounds/wastelands. Illegal ORV trail proliferation and soil and vegetation abuse would have continued if access routes had not been blocked off.

With sufficient deterrents, wide swaths of land scarred by a spider-web of criss-crossing tracks, damaged streamside areas, fumes, visible scars, and increasing conflicts with hikers, researchers, and students that have been inflicted on neighboring lands will be prevented. The important springs and the riparian habitat it provides for wildlife must continue to be protected from these intrusions.

Between the 6" diameter steel gatepost (embedded with over 3 cubic yards of concrete to prevent extraction by 4WD trucks and logging chains!) and a 24" DBH Tulip Poplar tree are boulders gathered onsite that are strategically placed by a knuckle-boom loader to keep ATVs, ORVs, and 4-wheelers from circumventing the gate. We are definitely sincere about protecting the habitat and wildlife from disturbance! The gate is locally fabricated out of recycled steel from old highway guard-rails.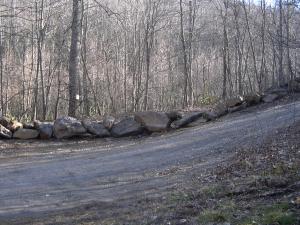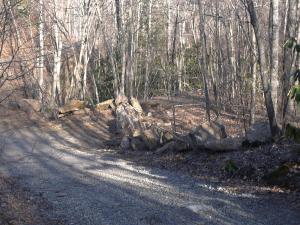 These boulders form a barrier to keep 4-wheelers out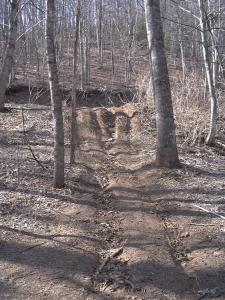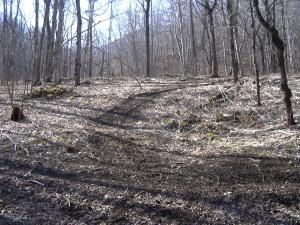 ATV Tracks at Big Sandy Mush Bald
---
Contact us if you have questions or comments about this site.
© 2005 Long Branch Environmental Education Center. All rights reserved.