Ecological Research at Long Branch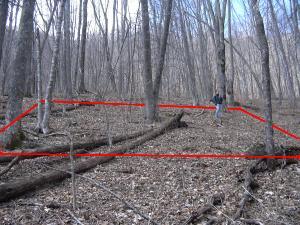 10mx10m plots like this will be used to study the forest vegetation.

"Ecological Modeling as a Tool for Conservation" is an ongoing research project undertaken by Long Branch staff, interns, and volunteers, and we invite anyone interested in participating in the project to contact us.

We will have abundant opportunities to scout the Center's 1635 acres of wildlife habitat in the highlands of the Newfound Mountains in search of rare, threatened, and endangered species. Come and join us in going beyond the paths and trails and into the Heart of the Wild!

The purpose of this research is to determine the environmental factors most important to community composition in the area in order to design an educational program for Long Branch Environmental Education Center and other local land managers. We are also trying to answer questions dealing with disturbance due to logging, and determine if certain environmental characteristics make a community more resilient to disturbance. This portion of the model could identify natural characteristics of the land that intrinsically promote faster regeneration of herbaceous understory and could help inform more ecologically sensitive logging practices on other mountain lands.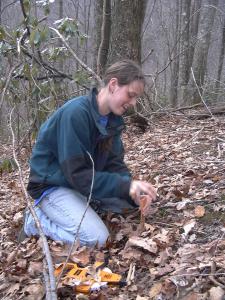 Sarah marks the corner of a plot with a wooden stake
This model will provide information for conservation, restoration ecology and other forms of management, as well as environmental education. We are hoping to create a publishable/marketable version of the model which will be circulated throughout the wider mountain community for public use. This is a chance to participate in research with a specific goal of promoting the careful ecological management of land in the Haywood/Madison/Buncombe tri-county area.
Come and be a vital part of the conservation ecology movement here in the Southern Appalachian mountains by experiencing biological field work first hand!
For more information:
---
Contact us if you have questions or comments about this site.
© 2005 Long Branch Environmental Education Center. All rights reserved.