Home • Accommodations • Wilderness Sports • Reservations • Directions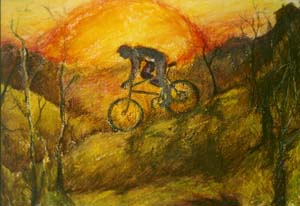 Mountain Biking is the fastest growing outdoor recreational sport in the United States, and Western Carolina maintains its reputation as one of the best locations in the country to ride. The Tsali mountain bike trail system lures thousands of biking enthusiasts to the area every year. Euchella maintains a full bike shop and rental program to get you set up and ready to ride! Specialized front-suspension bikes are $30 per day and rentals include helmet, repair kit and trail map. Guided trips and instruction are available for individuals and groups for a variety of scenic rides. Call for prices. Special weekly discounts for guests.
Lake flatwater canoeing or kayaking on the area lakes is another pleasant way to enjoy a warm and sunny day. Several tandem canoes and solo kayaks await your use on Lake Fontana or Queens Lake. Old Town canoes are $40.00 per day. Kayaks are $30.00 per day. Instruction is available. Special weekly discounts for guests.
Whitewater Kayak Instruction offers beginners the necessary attention and guidance needed to learn this exciting and dynamic sport. Participants will have the opportunity to work on class 2-3 whitewater rivers with expert instructors. Instruction includes equipment, transportation, and lunch. Rates vary depending on the size of the group, so call for more information.
Whitewater Rafting on the Nantahala, Ocoee, Chattooga and Tuckaseigee rivers thrills visitors each season with miles of refreshing waves and exciting rapids. This is a "must do" for visitors of every age. For a complete listing of whitewater outfitters, return to the Swain County homepage or contact us for assistance.
Hiking remains a tried and true activity for exploring the backcountry. The many trails of the Nantahala National Forest wind through lush mountains coves that lead to panoramic views and spectacular waterfalls. The Appalachian Trail and Great Smoky Mountains National Park also offer some of the best hiking found in America.
Horseback Riding also proves to be a great favorite with many guests, especially those with children. The stables next door takes riders on rambling tours through the numerous trails behind Euchella. Hourly, half-day, full day and overnight trips are available. Call Harold Loftis at 828-488-9649 or 488-2903.
Fishing in the Western Carolina area is as good as it gets whether you prefer fly casting on the numerous local streams or lake fishing in the many secluded coves found in the 26 miles of Fontana Lake. A fishing license is required. For guides and instruction, contact Mac Brown (828 488-8975) or Steve Claxton (828 488-2020).
Swimming and Running opportunities for individuals desiring to improve or maintain their physical conditioning exist throughout the area and begin as close as the front door to your room or cottage. The area lakes are warm and clean in the spring, summer and early fall and the running trails are unsurpassed for beauty and variety. Bring your fins and running shoes. Lake trips to the Smoky Mountain National Park are available on our 25' pontoon boat.
During the winter season, Alpine Skiing, Snowboarding and Snow Tubing are readily available at several nearby ski resorts with easy access from Euchella Mountain / Lake Cabins. All of these having snow making capacities.
For those who would like to hike & explore seldom visited areas of the Great Smokies, we have Lake Trips available aboard our 25 ft Bennington Pontoon Boat to Forney Creek. The two hour return trip boat ride takes you to the southern boundary of the park for a 1-2 hour hike inaccessible by road and we'll stop for a swim on the way back. Contact us for details.