Hi All,
Originally from Yancey County, I was born in the old clinic at Higgins (Hog Branch) down on Cane River. I lived with my grandparents who owned the house directly behind the old clinic.
I moved to Virginia when I was in the 4th grade and later returned to Yancey County when I was in the 12th grade and graduated from Cane River High School.
After high school, worked in the mills in Burnsville: Glen Raven Mills, OMC, and Avondale. Later, I returned to Virginia and went to a trade school for mainframe computer operations at Computer Learning Center in Springfield Virginia were I graduated with honors.
I worked in computer operations for 5 or 6 years and then moved into programming. I have been programming on the AS/400 (iSeries), Mainframe (zSeries), and Oracle platforms for about 20+ years using COBOL/SQL/DB2, PL/SQL and Rexx and lots of other software too numerous to list. I have had the pleasure (as a programmer/analyst contractor) to have worked in some very interesting IT shops and even got to live and work in Honolulu, Hawaii for an 18 month contract gig.
I'm not a web designer by trade, I do this in my spare time and it is all volunteer work for MAIN. If you see something that doesn't look right or needs updating or added on the MAIN Yancey County Website, send me an email (mailto:rsilvers@mebtel.net) and I will be more than happy to fix or update or add. The MAIN Yancey County Website was designed and created with Microsoft FrontPage.
Currently I live in Mebane, NC and you can visit my personal website at http://home.mebtel.net/~rsilvers/. I can also be contacted on Facebook (Rick Silvers) and Windows Live Messenger (Rick)
Best Regards,
Richard (Rick) Silvers
Some Pics:
My late grandparents, Paw and Maw (Sherdian and Chetty Silvers)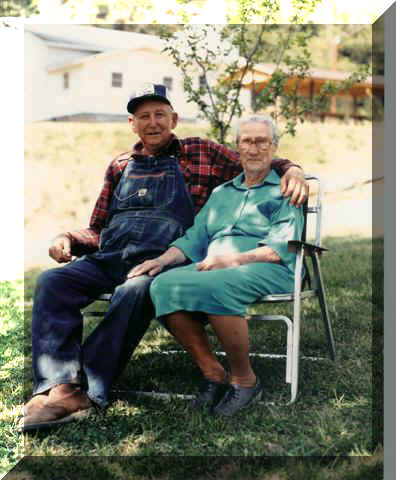 My wife and I on the Starlet, Honolulu, Hawaii
Our baby
Cherokee Panhead Silvers