[Please note that advance ticket sales at Malaprops and online will end at noon Friday, Sept. 7. Tickets will be available at the door.]

Printable Flyer
Amy Goodman in Asheville -- Friday, Sept. 7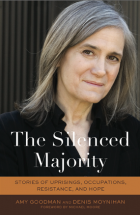 Award-winning journalist Amy Goodman will speak in Asheville on Friday, Sept. 7 to benefit the nonprofit Mountain Area Information Network (MAIN).
The 7 p.m talk will be held in Ferguson Auditorium on the campus of Asheville-Buncombe Technical Community College. Admission is $10 for adults and $5 for students. Advance tickets available online and at Malaprops Bookstore. Proceeds go to MAIN's "Take Back the Media!" capital campaign.
Following the talk, Goodman will be signing her just-released book, "The Silenced Majority," with co-author Denis Moynihan. The book examines the power of ordinary people to change the media based on accounts documented during populist uprisings from Fukushima to Tahrir Square and Occupy Wall Street.
Goodman is the host and co-founder of Democracy Now!, the daily news show broadcast on more than 1,000 radio and TV stations around the world. The program is heard locally each weekday at 8 a.m. on MAIN-FM 103.5, the low-power community radio station operated by Mountain Area Information Network. MAIN-FM also re-broadcasts Democracy Now! at 6 p.m. The video edition of Democracy Now! airs weekdays at 10 a.m. on the Blue Ridge Community College education access TV channel, BRCC-TV, in Henderson County.
Goodman's talk in Asheville will be her first following Democracy Now!'s coverage of the 2012 Democratic and Republican national conventions. In 2008, Goodman and two Democracy Now! producers were among a number of journalists arrested during the opening day of the GOP convention in St. Paul, MN.
Goodman and Democracy Now! filed a civil lawsuit against the local police and the US Secret Service. The suit was settled last October for $100,000 plus an agreement by the police departments to train their personnel in the First Amendment's protections of journalists and a free press.
"We are thrilled to host Amy Goodman the day after the Democratic Convention concludes in Charlotte," said Wally Bowen, founder and executive director of MAIN. "With the unprecedented flood of corporate money into our politics, truly independent journalists like Amy Goodman are more important than ever before."
The nonprofit Democracy Now! does not accept advertising or corporate underwriting, making it one of the only independent national news programs in the United States. Its awards include Best Investigating Reporting from the Society of Professional Journalists, the George Polk Award for Broadcast Reporting, and the Alfred I. DuPont-Columbia Award for Excellence in Broadcasting.
MAIN-FM is the only radio station in the Asheville area that broadcasts Democracy Now! live each weekday morning. Bowen said Amy Goodman's talk coincides with a major power increase for MAIN-FM, which had been forced to broadcast at reduced power since going on the air in 2003. The FCC recently relaxed the rules over opposition from commercial broadcasters. The date for MAIN-FM's power increase is pending FCC approval.
Founded in 1995, the Mountain Area Information Network is a nonprofit Internet service provider which hosts websites for citizens, small businesses, and nonprofits throughout western North Carolina. MAIN also offers high-speed Internet access in parts of Buncombe, Madison, Mitchell and Yancey counties. MAIN is pioneering a new business model for journalism by enabling local residents to spend their Internet dollars to support independent news and public affairs programming.
For more information, visit: http://www.main.nc.us or call 828.255.0182. END