Oh...weeeee...I didn't know this could be so much FUN...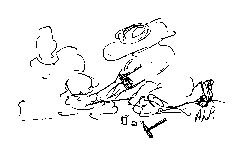 This is a listing of gem and mineral related shows and events in Asheville, NC and the Southeastern USA in general, including activities sponsored by S.A.M.S. and the Asheville Museum of Science. If you know of any shows or events which you feel should be listed here, please contact sams@main.nc.us with the information.
The new Asheville Museum of Science is the former Colburn Earth Science Museum and before that, the Colburn Gem & Mineral Museum. Check them out at http://ashevillescience.org.


UPCOMING SHOWS

July 21-28, 2019 Arden NC. 16th Annual Western North Carolina Rockhound Roundup; Mountain Area Gem and Mineral Association; Camp Stephens, 263 Clayton Road; daily 8:30-5; $40 for adults, free admission for children 12 and under; Participate in digs to local mines, visit the numerous gem and mineral shows in Franklin, North Carolina daily, and demonstrations; contact Richard Jacquot, PO Box 542, Leicester, NC 28748, 828-779-4501; Email: rick@wncrocks.com; Website: https://www.rockngem.com/ShowDatesFiles/admin-update.php?ShowDateID=6010
July 24-28, 2019 Franklin, NC. Annual show; Echo Valley Gem Show; Echo Valley Gem Show (across from GLW), 6456 Sylva Rd.; Wed. 9-6, Thu. 9-6, Fri. 9-6, Sat. 9-6; free; Additional hours are 9am - 5pm on Sunday.; contact Damian; Email: mbellpoint@gmail.com; Website: www.bellpointinc.com
July 27-August 4, 2019, Spruce Pine NC. The 35th Annual Grassy Creek Mineral and Gem Show put on by the Parkway Fire and Rescue to raise money for new equipment. Over 60 US and International dealers with almost any kind of jewelry, gemstone and mineral specimens, fossil, lapidary equipment and more you might want. Each booth is 20 foot by 40 foot so there are LOTS of items for sale. Parking and admission are free. Food is available. Hours: 10 to 6 daily with many vendors open earlier and later because they are staying with their booth. Address: 136 Majestic View, Parkway Fire and Rescue show grounds, Spruce Pine, NC 28777. (828) 765-5519; Email: collisdonna@yahoo.com; Website: http://www.grassycreekgemshow.org
August 1-4, 2019 Spruce Pine, NC. Annual show; Mitchell County Chamber of Commerce; NC Mineral & Gem Festival, 12121 Hwy 226 S; Thu. 10-6, Fri. 10-6, Sat. 10-6, Sun. 12:30-5; adults $3, and free admission for children under 10 ; 60th anniversary celebration of one of the longest running and most popular gem shows in the country, shop for gems, minerals, fossils, finished jewelry and take in anniversary year exhibits; contact Patti Jensen, 11 Crystal Street, Spruce Pine, NC 28777, (828) 765-9033; Email: pjensen@mitchellcountychamber.org; Website: www.ncgemfest.com
August 12, 2019; Greenville, SC. WESCAGEM (WESTERN CAROLINA GEM AND MINERAL SOCIETY) 2ND ANNUAL GEM AND MINERAL SHOW. <<< SILENT AUCTION >>> AUGUST 12, 2019 VIEWING: 7PM AUCTION: 7:30PM TILL... NORTHSIDE UNITED METHODIST (435 SUMMIT DR., GRNVL.) OLD ESTATE STOCK, BAGS OF ROUGH ROCKS AND CUT STONES, SCRAP SILVER, "SLABS AND CABS", MINERALS (SOME RARE), BOULDER OPAL, AGATE (ROUGH AND POLISHED) DISPLAY SPECIMENS, BEADS, CRYSTALS MINERALS JEWELRY, LAPIDARY EQUIPMENT FOSSILS , PETRIFIED WOOD PETOSKEYS , ROCKS, SURPRISE ITEMS, WIDE VARIETY OF MATERIAL FROM AROUND THE WORLD SOMETHING FOR EVERYONE
August 30 - September 2, 2019. Raleigh, NC. Annual show; Treasures of the Earth, Inc.; North Carolina State Fairgrounds, 1025 Blue Ridge Rd; Fri. 12-6, Sat. 10-5, Sun. 10-5, Mon. 10-4; adults $5 (tickets are good for the weekend), and free admission for youth 16 and under; vendors offering mineral specimens, rocks, fossils, lapidary jewelry, crystals, demonstrations, remount of stones and repairs; contact Ellen White, PO Box 59, Gloucester Point, VA 23062, (804) 642-2011; Email: Ellen@treasuresoftheearth.com; Website: http://www.TreasuresOfTheEarth.com
September 6-8, 2019. Winston-Salem, NC. Annual show; Forsyth Gem & Mineral Club, Inc.; Winston-Salem Fairgrounds —Education Building , Enter at Gate 9 off 27th Street; Fri. 10-7, Sat. 10-7, Sun. 12-5; Adults $3, free admission for children in senior year of high school and under with accompanying adult; 48th annual show - theme: Minerals, Gems, and Fossils of Mexico; contact W. A. Marion - Show Chairman, 1163 Bear Creek Church Rd., Mocksville, NC 27028; Email: mariona1@yadtel.net; Website: www.forsythgemclub.com

Septembe, 13-15, Arden, NC. Annual show; Mountain Area Gem and Mineral Association (M.A.G.M.A.); Camp Stephens, 263 Clayton Road; Fri. 9-6, Sat. 9-6, Sun. 9-4; free admission; 11th Bi-Annual Show, dealers specializing in gems, minerals, fossils, meteorites and artifacts from North Carolina and around the world will be offered; contact Richard Jacquot, PO Box 542, Leicester, NC 28748, (828) 779-4501; Email: rick@wncrocks.com; Website: www.americanrockhound.com
October 4-6, 2019. Dallas, NC. Annual show; Gaston Gem, Mineral & Facetor's Club; Gaston County Park, HWY 279 Dallas-Cherryville HWY; Fri. 9-6, Sat. 9-6, Sun. 9-4; free admission; Minerals, fossils, cutting material, quality gemstones, wire wrapping, settings, geodes, jewelry, real working sluice, and activities for children; contact Bob Winstanley, 148 Hampshire Drive, Mooresville, NC 28115, (704) 577-3391; Email: Machine66man@gmail.com; Website: http://gastongemclub.weebly.com/
October 11, 12, & 13, 2019; Huntsville, AL. Huntsville Gem & Mineral Society, Gem, Jewelry, and Mineral Show, Our show is the LARGEST gem, jewelry, and mineral show in North Alabama and Southern Middle Tennes- see! This year's show will be held October 11-13th, 2019. Show Dates/Hours: Friday, October 11th: 10 am to 6 pm Saturday, October 12th: 10 am to 6 pm Sunday, October 13th: Noon to 5 pm. Venue Location: The Jaycee Community Building, 2180 Airport Road SW, Huntsville, Alabama. Parking is free and we'll be conveniently close to local restaurants and shopping. There will be many dealers offering a wide variety of minerals, crystals, jewelry, lapidary, rock-hunting supplies and more for sale! The show will also feature Displays of gems, minerals, and jewelry; Demon-strations of lapidary and related arts; a Mining Flume for all to enjoy; and a Fluorescent Room to explore. Your children won't want to miss the Dinosaur Dig and kids' activities based on our Pebble Pups program. Plus we'll have an hourly drawing for Door Prizes and Raffle Prizes! Donations of $3.00 each are requested at the door, with children under 5 free, and there will be weekend passes available for $5.00. We had a great turnout last year, and we're looking forward to another Big Show this year. So spread the word to all your friends, and come join us for a fun weekend this Fall!
November 2 & 3, 2019; Tampa, FL. 60th Annual Gem, Moneral and Jewelry Show. Tampa Bay Mineral & Science Club presents: Hot Rocks, Cool Gems and Fabulous Jewelry. Plant City Strawberry Festival Expo Hall, 303 N. Lemon St, 10 am - 5 pm, www.tampabayrockclub.com. COUPON: $1.00 off Admission - up to 4 people.
November 9 & 10, 2019; Melbourne, FL. 46th Annual Parade of Gems Canaveral Mineral & Gem Society, 45 Dealers displaying & selling Jewelry, gems, minerals, crystals, fossils, tools, rocks, slabs. Demonstrations; hourly prizes; grand prize, Children's Mineral Discoveries, Melbourne Auditorium, 625 East Hibiscus Blvd. Melbourne, FL 32901, More info: www.canaveral-mgs.com, Show Chairman, Don McLamb, 570 Seabreeze Drive Indialantic, FL 32903 321-723-2592 fdjmc@aol.com
November 23 & 24, 2019; West Palm Beach, FL. West Palm Beach, Florida, 53rd annual gem, mineral, jewelry, bead and fossil show, Gem & Mineral Society of the Palm Beaches, Saturday (Nov. 23rd) 9am-6pm, Sunday (Nov. 24th) 10am-5pm. South Florida Fairgrounds Expo Center East, 9067 Southern Blvd., West Palm Beach Florida 33411. Over 80 dealers, Door prizes, hourly and other prize drawings, Fossil Dig, Gem Mining, Geode Cracking, Displays, Demonstrations, Speakers, Admission $9, children under 12 free. Visit website for $1 o coupon. 2 day admission $14. Free Parking, Show chairman, Walter Triche 561-585-2080 email: wtriche@gmail.com

SFMS WORKSHOPS: WILDACRES RETREAT & WILLIAM HOLLAND

The Southeast Federation of Mineralogical Societies, Inc. sponsors Gem, Jewelry and Mineral workshops each year. They are held at Wildacres Retreat, near Little Switzerland in North Carolina, and at William Holland School of Lapidary Arts near the small town of Young Harris in northeast Georgia. Both facilities offer double accommodations with a private bath. A small number of private rooms with private baths are available. William Holland School of Lapidary Arts also has a few RV sites. In most instances your room and all meals are included in your tuition costs.

A broad range of courses related to the jewelry & lapidary arts are taught by qualified instructors from throughout the Federation. All instructors are volunteers who are not paid for the highly skilled and professional experience that they bring to the workshops.

The workshops are equipped for common lapidary activities such as cabochon cutting, faceting, and silversmithing. Additional equipment is brought in when new or special courses are taught.
2019 SFMS Workshops
Workshop I – William Holland Classes – June 9-14, 2019
Beading
Cabochons I
Casting
Chain – Loop n Loop
Electro-Etching/Wood Inlay
Metal Manipulation/ Cold Connection
Opals II – Carving
Silver 2 – Fused
Silver I
Silver-Wear I & II
Wire II – Bracelets Only
Workshop II – Wildacres – August 19-25, 2019
Beginning Casting
Cabochons
Chain Maille
Cold Connections
Layered Colored Pencil Jewelry on Metal
Metalwork Special Projects
Wire

Workshop III – Wildacres – September 16-22, 2019
Advanced Casting
Chain Maille
Cold Connection
Electro-Etching/Wood Inlay
Introduction to Gem ID
Metal Clay – Tangible Moments
Seed Bead Weaving
Silver I
Stone Inlay

For more info please visit:
http://www.sfmsworkshops.com/


Here are some photos taken at local events:
Pee Wee Mine at Hey Day, supported by S.A.M.S. volunteers.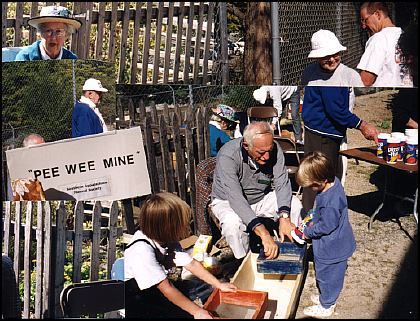 Illustration with text from LIVING FOSSILS by Anne L. Parker. Used by permission of Dr. James P. Parker.

Opal and Saphire images Copyright