Oh...weeeee...I didn't know this could be so much FUN...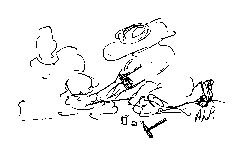 This is a listing of gem and mineral related shows and events in Asheville, NC and the Southeastern USA in general, including activities sponsored by S.A.M.S. and the Asheville Museum of Science. If you know of any shows or events which you feel should be listed here, please contact sams@main.nc.us with the information.
The new Asheville Museum of Science (the former Colburn Earth Science Museum and before that the Colburn Gem & Mineral Museum) will be opening soon.


UPCOMING SHOWS:
November 11 - 13, 2016, Pascagoula, MS. The 27th Magnolia State Gem, Mineral, and Jewelry Show! The Mississippi Gulf Coast Gem & Mineral Society, Inc. Friday November 11, 10:00 - 6:00 Saturday November 12, 10:00 - 6:00 Sunday November 13, 10:00 - 5:00 Jackson County Fairgrounds Civic Center, 2902 Shortcut Rd., Pascagoula, MS 39567. 30 plus vendors selling gemstones, minerals, fossils, jewelry, and much more. Gold/silversmiths doing repairs, several demonstrators including flint knapping, gold panning, faceting,cutting and polishing stones, beading,and chainmaking. Meals and snacks available at our concessions. Several educational exhibits. There is a raffle as well as hourly door prizes. Admission is $3.00 for adults, children 12 & under are free with adult. 3 day ticket available for $5.00. For more information Contact Bill La Rue, (228) 229-8781, wildbill2736@gmail.com or Barbi Beatty, (228) 238-9900 mgcgms@bellsouth.net www.mgcgms.org

November 12 & 13, 2016, Melbourne, FL. Canveral Mineral & Gem Society. 43rd Annual Parade of Gems, November 12 & 13 2016, 10:00am to 5:00pm. Melbourne Auditorium, 625 East Hibiscus Blvd. Melbourne, FL 32901. 40+ dealers displaying and selling Jewelry, Gems, Minerals, Crystals, Fossils, Tools and Rocks. Admission; $5 Donation. Contact: Don McLamb, CMGS President & Acting Show Chairman
November 18 – 20, 2016, Columbia, SC. Columbia, SC Gem & Mineral Society will hold its 2016 49th Annual Gem, Mineral, & Jewelry Show, Fri Nov. 18, 10:00 - 6:00; Sat. Nov. 19, 10:00 - 6:00; Sun. Nov. 20, 12:00 - 5:00 Jamil Temple, 206 Jamil Rd.. Columbia, SC 29210Jewelry, beads, loose stones, fossils, minerals, gold, silver, & tools for sale Geodes sold & cut. Club member's rock collections on exhibit & lapidary demonstrations. South Carolina amethyst on display. Sponsored by The Columbia Gem & Mineral Society, $5.00 for adults, Sixteen & under free with adult. All military & their dependents free. Sue Shrader: 803-736-9317; ashrader@mindspring.com Dealers; Sharon Sterrett 803-356-1472; ssterrett@sc.rr.com www.cgams.org
November 18-20, 2016; Louisville, KY. KYANA Geological Society, Camp Crestwood ; 7206 Clore Lane; Fri. 10-6, Sat. 10-6, Sun. 12-5; Free Admission; 44th Annual Mineral, Gem & Fossil Show sponsored by KYANA Geological Society. Beautiful custom jewelry, jewelry supplies, beads, gemstones, genuine Australian opals, crystals, minerals and fossils. Door Prizes, children's Activities.; contact Rick Hunter, P.O. Box 32561, Louisville, KY 40232, (502)- 298-8871; e-mail: kyanageoshowchair@gmail.com; Web site: www.kyanageo.org
November 18-20, 2016, Marietta, GA. Cobb County Gem & Mineral Society/CCGMS invites you to join them in their 31st Annual Gem and Mineral Show as we return to our newly renovated home, Cobb County Civic Center in Marietta, GA. Calling all collectors, artists, educators, formal/informal students of lapidary and rock hounds alike. Come immerse yourselves in a showcase of rocks, gemstones, minerals and fossils collected and sold all over the world! Free admission and Free parking provide the option of a weekend of shopping, live lapidary and artisan demonstrations, mineral identification and instruction, the chance to buy and crack open your very own geode and much more. Be sure to listen for the hourly door prizes! November 18-20, 2016. Friday and Saturday 10AM—6PM, Sunday 10AM—5PM Cobb County Civic Center 548 Marietta Parkway Marietta, GA 30060 Web Site: http://www.cobbcountymineral.org/ Facebook: https://www.facebook.com/cobbcountymineral/
November 19-20, 2016, West Palm Beach, FL. Gem & Mineral Society of the Palm Beaches, Inc. Presents Our Golden Anniversary 50th Annual Gem, Mineral, Bead, Jewelry, & Fossil Show. Expo Center East South Florida Fairgrounds, 9067 Southern Blvd., West Palm Beach, Florida 33411. November 19-20, 2016, Saturday 9AM—6PM, Sunday 10AM—5PM. Over 80 dealers from all over the country offer a wide range of merchandise—fine jewelry, southwestern Indian jewelry, loose beads, rocks and minerals for specimen collecting and cutting, loose precious and semi-precious gemstones, settings and findings, fossils, meteorites, tools, books, and much, much more. The show offers a wide range of educational activities and exhibits. Visit the demonstration area where society members will be showcasing skills learned in club classes. Demonstrations will include faceting, cabochon making, chain making, and bead stringing just to name a few. Hourly door prizes awarded both days, a show Grand Prize and a Scholarship fundraising drawing will be held. We have also invited several local education based clubs to display at our show, as well as the South Florida Science Center and Aquarium. Guest speakers will present a variety of educational topics.
November 25, 26, 27. Roanoke Valley Mineral and Gem Society annual show. Salem Civic Center, 1001 Roanoke Boulevard, Salem, Va. 24153 Friday, Saturday, and Sunday, November 25, 26, 27. Hours, 2pm – 7pm Friday10am – 6pm, Saturday, 12pm – 5pm Sunday. Admission $5.00 good for all 3 days. Door prizes, Fluorescent mineral display and new this year a video room showing videos about rocks and minerals. Door prizes, grand prize drawn Sunday at 4:30pm. Roanoke Valley Mineral and Gem Society annual show.Salem Civic Center, 1001 Roanoke Boulevard, Salem, Va. 24153.
December 2-4, 2016; Montgomery, AL. The 46th Annual Montgomery Gem, Mineral & Jewelry Show, Garrett Coliseum 1555 Federal Drive Montgomery, Alabama. Show Times: Friday, December 2: 9 AM - 6 PM Saturday, December 3: 10 AM - 6 PM Sunday, December 4: 11 AM - 5 PM. Admission: $2/Adults or $3 for weekend pass. Free/18 & Under with student ID and 1 paid adult Free Parking. Free door prize ticket with each paid adult admission. Dealers will have beads, crystals, geodes, rough, cabochons, gem stones, finished jewelry, tools, supplies and mineral & fossil specimens. Club members will display their individual collections and will give demonstrations on gem and rock cutting, faceting, cabochon making, and knapping. Web Site: http://montgomerygemandmineralsociety.com/mgms/ Facebook: https://www.facebook.com/MontgomeryGemClub/
January 13-15, 2017; Largo, Fl. Pinellas Geological Society announces our Fortieth Anniual Gem, Jewelry and Mineral Show and Sale. Friday and Saturday 10 AM to 5 PM; Sunday Noon to 5PM Largo Cultural Center, Parkside Room, 105 Central Park Drive, Largo, Florida Turn south off East Bay Drive just one block east of Seminole Blvd. Free admission. Donation $1.50 for hourly drawing Silent Auction every hour. Unique jewelry has fascinated mankind since cave days. Today that still holds true as men and women create wonderful gem and mineral ornaments from nature's abundant rocks and minerals. Members of the Gem and Mineral Clubs in our area gather together monthly to share their hobby.
February 4 & 5, 2017, Merritt Island FL. Rock, Gem and Mineral Show, Central Brevard Rock and Gem Club, Sat & Sun Feb 4 & 5 10am-5pm each day Kiwanis Recreation Center 951 Kiwanis Island Park Rd. Merritt Island, Fl. 32952. Exit 520 off I95 and turn East onto SR520 until you see the sign for Park Entrance. Grand Prize drawing and 2 draws /hour for door prizes. There will be a sluice for the young at heart, club demos and displays Silent Auction with grab and go items (priced to sell).
July 21-23, 2017 Boone, NC. Annual show; Treasures Of The Earth Gem & Jewelry Slhows, Boone National Guard Armory; 274 Hunting Hills Lane; Fri. 10-6, Sat. 10-6, Sun. 11-5; $3 Admission, Free Admission for children under 16; Annual show. Jewelry makers, goldsmiths and silversmiths from all over the U.S. who can reconstruct, repair, design or make original jewelry from customer-selected gems, stones, opals and crystals. Wire wrap, wire sculpture, stone beads, pearls, stone setting, amber, opal, mineral and fossil dealers. Hourly door prizes including a Ring with a precious stone that will be given as a Grand Prize. ; contact Van Wimmer - Show Director, 5273 Bradshaw Road, Salem, VA 24153, 540-384-6047; e-mail: van@toteshows.com; Web site: www.toteshows.com

SFMS WORKSHOPS WILDACRES RETREAT & WILLIAM HOLLAND

The Southeast Federation of Mineralogical Societies, Inc. sponsors four Gem, Jewelry and Mineral workshops each year. Two are held at Wildacres Retreat, near Little Switzerland in North Carolina, and two at William Holland School of Lapidary Arts near the small town of Young Harris in northeast Georgia. Both facilities offer double accommodations with a private bath. A small number of private rooms with private baths are available. William Holland School of Lapidary Arts also has a few RV sites. In most instances your room and all meals are included in your tuition costs.

A broad range of courses related to the jewelry & lapidary arts are taught by qualified instructors from throughout the Federation. All instructors are volunteers who are not paid for the highly skilled and professional experience that they bring to the workshops.

The workshops are equipped for common lapidary activities such as cabochon cutting, faceting, and silversmithing. Additional equipment is brought in when new or special courses are taught.
WILLIAM HOLLAND SCHEDULE 2016

June 5 - June 12
Beading -Becky Patellis
Cabochons - Dave Bergquist
Casting - Bill Harr
Chainmaille - Kathy Morris
Faceting - Tom Mitchell
Gem Trees - Jerri Heer
Mineral ID - Scott Forward
Opals - Carl Talbott
Polymer Clay - Sandra Davis
Silver II-SW Silver - Nancy English
Wire I - Sandy Bergquist
Wire II - Wire Weaving & Wire Wrap Filigree - Jan Stephens

WILDACRES SCHEDULE 2016
August 22 - August 28th
Fused Chain Maille - Roy Deere
Metalwork Special Projects - Jeff Sheer
Beading - Advanced
Mineral ID - Travis Paris
Chasing & Repousse - Tom and Kay Benham
Display Case - Danny Grifin
Deep Relief Wood Carving - Clancy Smith
Metal Clay 1 - Katie Baum
Gourds - Pat Davis
September 19 - 25
Chain Maille 1-2 - Roy Deere
Gem Identification - Teresa Polly
Casting - Bill Harr
Flint Knapping - Michael Miller
Wire for Beaders - Leslie Wayment
Faceting - Tom Mitchell
Silversmithing - Pattie Appleby
Scrimshaw - Rich Williams
Cold Connections and Enameling - Debora Mauser
Chasing & Repousse 2 - Tom and Kay Benham
Metal Clay 2 - Katie Baum

For more info please visit:
http://www.sfmsworkshops.com/


Here are some photos taken at local events:
Pee Wee Mine at Hey Day, supported by S.A.M.S. volunteers.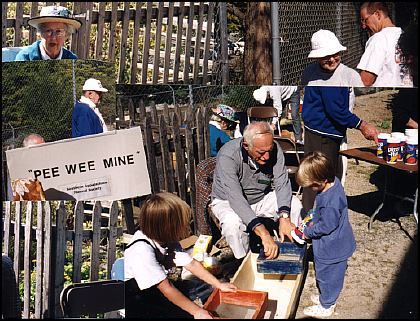 Illustration with text from LIVING FOSSILS by Anne L. Parker. Used by permission of Dr. James P. Parker.

Opal and Saphire images Copyright