Oh...weeeee...I didn't know this could be so much FUN...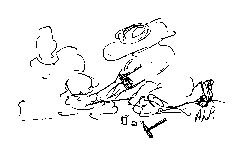 This is a listing of gem and mineral related shows and events in Asheville, NC and the Southeastern USA in general, including activities sponsored by S.A.M.S. and the Colburn Earth Science Museum. If you know of any shows or events which you feel should be listed here, please contact sams@main.nc.us with the information.
Happenings

Open Tuesday - Saturday 10 AM to 5 PM
Sunday, 1 PM to 5 PM, June through October

(828) 254-7162

COLBURN EARTH SCIENCE MUSEUM 2 S. PACK SQUARE AT PACK PLACE ASHEVILLE , NC 28801 * 828/254-7162 phone * 828/ 257-4505 fax *
Colburn Saturday Events & After School Clubs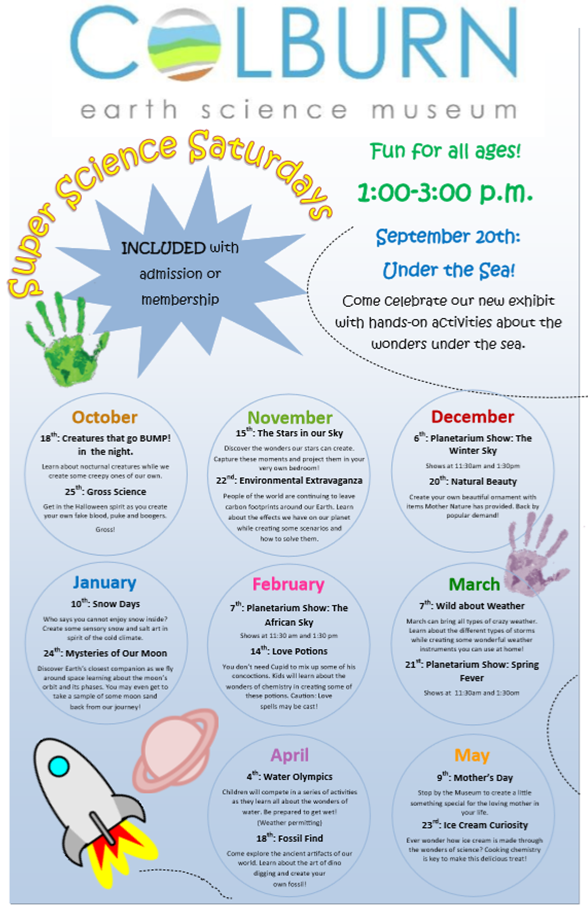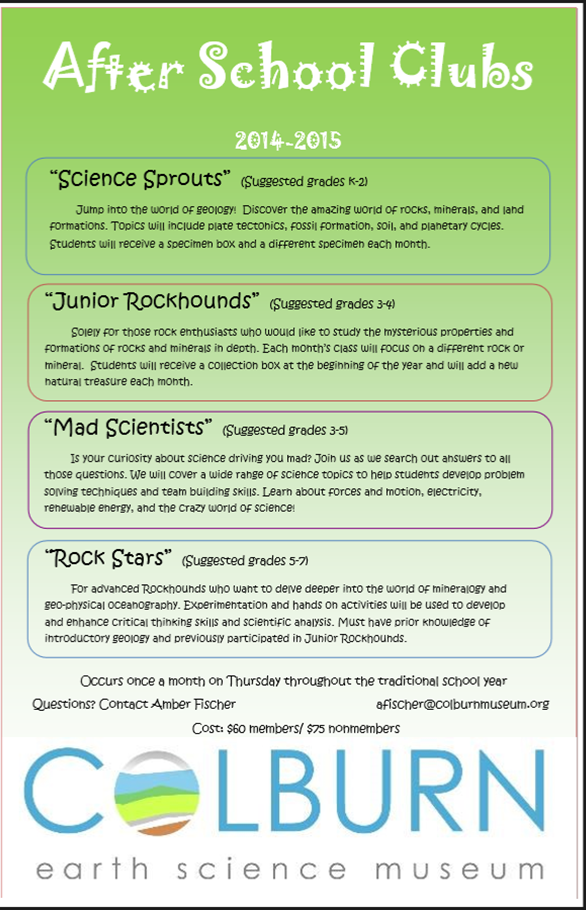 Members, join us for our after school clubs starting September 11th! Members receive a discount on all classes and FREE ADMISSION to our Super Saturday events! Email afischer@colburnmuseum.org for registration or questions.
Amber Fischer
Director of Education
Colburn Earth Science Museum
AFischer@colburnmuseum.org
From the Board: Due to the overloaded staff at the Museum, I am urging any, or all of you, to donate a couple of hours per week to help. There is more to do than just sit at the desk. We are sprucing up the museum with paint, new exhibits, and refurbishing existing displays - including the seismograph which we have all missed. Many hands make light work. Come use your talents and abilities. There is much to be done, and we want to upgrade our appearance before Gem Fest.
The staff and Board are working hard to get the Museum on a firm foundation. Vicky Ballard is an inspiration to work with and committed to the success of the Museum. If you have not met her, then come and do so. It is a brand new day.
Sara Peacock


UPCOMING SHOWS:

April 25-26, 2015 Memphis, TN
Memphis Mineral, Fossil, Jewelry Show "The Earth Wide Open" Memphis Archaeological and Geological Society, Memphis International Agricenter, 7777 Walnut Grove Rd. Memphis, TN Saturday, April 25 9-6:00 and Sunday, April 26 10-5, Dealers, Exhibits, Demonstrations, Grand and hourly door prizes. Kids Area with Rockzone featuring Gem Dig, Geode Bowling, and Rocks Around the Clock. Adults $5.00, 2 day pass $8.00,Children 12 and under $2.00. Scouts in uniform Free web: www.The EarthWideOpen.com email info@theearthwideopen.com. Show Chair James Butchko 901 743-0058 Dealer Chair WC McDaniel 901-274-7706
May 2 & 3, 2015, North Charleston, SC. Charleston Area Convention Center; Exhibit Hall A. Location Address: 5000 Coliseum Drive, North Charleston, SC 29418 Hours: Sat. & Sun 10-5. Directions: I-26 East to I-526 West. Take Exit 16 (first exit), stay in right lane, and turn left onto International Blvd. Turn right at the second stop light and you will be facing the convention center. Follow the road to the left to the parking lot. FREE admission and FREE parking; hourly door prizes, club hospitality table, demonstrations, fossil dig, geode cracking. Contact Karen Havenstein of Charleston, SC at (843) 795-2956; e-mail: fossils@comcast.net
May 8, 9, & 10, 2015, Franklin, NC. Retail Club Show: Gem & Mineral Society of Franklin, NC. Fri. & Sat., May 8th & 9th, 10:00 AM - 5:00 PM, Sun., May 10th, 10:00 AM - 4:00PM. Location: Carpenter Community Center, 1288 Georgia Rd. (US441), Franklin, NC. No admission charge, rough and finished gemstones and jewelry, minerals and local crafts. Contact: Norm Holbert, 828-634-0350
May 8-10, 2015, Norcross, GA. The Georgia Mineral Society's 47th Annual Mother's Day Weekend Gem, Mineral, Jewelry and Fossil Show, at a new location, North Atlanta Trade Center, 1700 Jeurgens Court, Norcross, GA, May 8-10, 2015. We will also be celebrating our 80th birthday with an open house at our clubhouse.Contact person: Shelley Stubbs; email address: mayshow@gamineral.org
May 22 - 24 2015, Biloxi, Mississippi. 36 Annual Show. Harrison County Gem and Mineral Society, Inc. Friday 10-6; Saturday 10-6; Sunday 10-4 Mississippi Coast Coliseum and Convention Center 2350 Beach Blvd. Biloxi, Mississippi. Adults $5, children (10 and under) free with adult; demonstrations, displays, Stump the Expert, hourly door prizes; Contact Lynn Tate (228) 342-2963 or GulfportGemShow@gmail.com for additional information.
June 6 & 7, 2015, McCalla, AL. Alabama Mineral & Lapidary Society 42nd annual Tannehill Historical Park Gem, Mineral, Fossil, & Jewelry 9 a.m. to 5 p.m. The show is FREE with paid admission to the park. The show is held in the Tannehill Historical Ironworks State Park where three counties meet. They are Jefferson, Bibb, and Tuscaloosa. The address is : 12632 Confederate Parkway Mc Calla, AL. 35111. So pack a lunch and take I-459/20 to exit #100 or I-459 to exit #1 and follow the signs. http//lapidaryclub.com
June 13 - 14, 2015 Cartersville, GA Gem and Mineral Show and Sale Tellus Science Museum, Saturday 10 AM – 5 PM; Sunday 10 AM – 5 PM Tellus Science Museum. I-75 at exit 293, directly behind the Clarion Inn. Calling all rockhounds, jewelry collectors, families and everyone fascinated by the Earth's treasures! Dealers from all o er the country will bring their wares for you to browse . Some will feature rare and exotic jewelry, while others will showcase ancient fossils or colorful specimens. You will have an opportunity to purchase a one-of-a-kind find at this unique festival of merchants. And what's even better? Most dealers will also honor the Tellus member discount – that means members save10% off your purchase! Dealers will be set up outside on the back lawn and inside the Museum in the Banquet Rooms. Hourly door prizes, Free mineral specimens for the first 200 guests each day Bring your mystery mineral specimen for free mineral or fossil identification. Kid'sactivities. Show contact: Mary Vinson, Event Coordinator, (770) 606-5700 ext 402 Email contact: maryv@tellusmuseum.org
July 26 to August 2, 2015. 31st Annual Grassy Creek Gem and Mineral Show located at the Parkway Fire and Rescue Department at 12966 Hwy. 226 South, in Spruce Pine, NC, halfway between US 19E and the Blue Ridge Parkway (exit 331). The Annual Grassy Creek Gem and Mineral Show is put on by the Parkway Fire and Rescue to raise funds for new equipment. It features dealers from all over the world with gem stones, mineral specimens, fossils, jewelry, beads and lots more. Admission is FREE. Parking is FREE. If it is made of stone, you should be able to find it here! Hours are from 8 to 6 all days. Contact Donna Collis at collisdonna@yahoo.com for information. 828-765-5519 or 828-766-6136
October 23 – 25, 2015, Austin, TX AFMS Convention and Show, hosted by the South Central Federation. More details to come.
November 21-22, 2015, West Palm Beach, Fl. 49th annual gem, mineral, jewelry, bead and fossil show. Gem & Mineral Society of the Palm Beaches. Saturday (Nov. 21st) 9am-6pm, Sunday (Nov. 22nd) 10am-5pm. South Florida Fairgrounds Expo Center East, 9067 Southern Blvd., West Palm Beach Florida

SFMS WORKSHOPS WILDACRES RETREAT & WILLIAM HOLLAND

The Southeast Federation of Mineralogical Societies, Inc. sponsors four Gem, Jewelry and Mineral workshops each year. Two are held at Wildacres Retreat, near Little Switzerland in North Carolina, and two at William Holland School of Lapidary Arts near the small town of Young Harris in northeast Georgia. Both facilities offer double accommodations with a private bath. A small number of private rooms with private baths are available. William Holland School of Lapidary Arts also has a few RV sites. In most instances your room and all meals are included in your tuition costs.

A broad range of courses related to the jewelry & lapidary arts are taught by qualified instructors from throughout the Federation. All instructors are volunteers who are not paid for the highly skilled and professional experience that they bring to the workshops.

The workshops are equipped for common lapidary activities such as cabochon cutting, faceting, and silversmithing. Additional equipment is brought in when new or special courses are taught.

For more info please visit:
http://www.sfmsworkshops.com/


Here are some photos taken at local events:
Pee Wee Mine at Hey Day, supported by S.A.M.S. volunteers.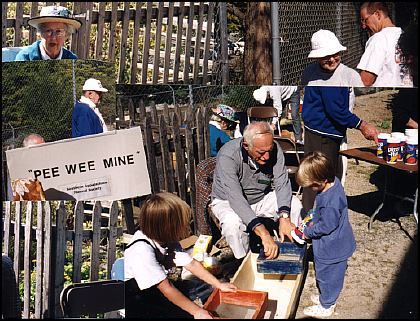 Illustration with text from LIVING FOSSILS by Anne L. Parker. Used by permission of Dr. James P. Parker.

Opal and Saphire images Copyright