Oh...weeeee...I didn't know this could be so much FUN...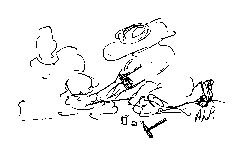 This is a listing of gem and mineral related shows and events in Asheville, NC and the Southeastern USA in general, including activities sponsored by S.A.M.S. and the Colburn Earth Science Museum. If you know of any shows or events which you feel should be listed here, please contact sams@main.nc.us with the information.
Happenings

Open Tuesday - Saturday 10 AM to 5 PM
Sunday, 1 PM to 5 PM, June through October

(828) 254-7162

COLBURN EARTH SCIENCE MUSEUM 2 S. PACK SQUARE AT PACK PLACE ASHEVILLE , NC 28801 * 828/254-7162 phone * 828/ 257-4505 fax *
BEER CITY SCIENCE
DECEMBER 6TH!!!
An after-hours event to benefit science education. Free local beers, local issues & local solutions
Join us for Beer City Science: Adults Only! Each month will feature FREE beer from local, sustainable breweries and a short discussion on issues facing the WNC community.
Bring your friends (21+) and come ready to learn about the environmental issues facing WNC from active scientists and entrepreneurs!
$10 donation gets you free beer! Limit 3 Craft Brews
From the Board: Due to the overloaded staff at the Museum, I am urging any, or all of you, to donate a couple of hours per week to help. There is more to do than just sit at the desk. We are sprucing up the museum with paint, new exhibits, and refurbishing existing displays - including the seismograph which we have all missed. Many hands make light work. Come use your talents and abilities. There is much to be done, and we want to upgrade our appearance before Gem Fest.
The staff and Board are working hard to get the Museum on a firm foundation. Vicky Ballard is an inspiration to work with and committed to the success of the Museum. If you have not met her, then come and do so. It is a brand new day.
Sara Peacock


UPCOMING SHOWS:

24th Annual Leaf Lookers Gemboree
Date(s): Oct 25, 2013 - Oct 27, 2013
When: Friday - Saturday 10am - 5pm; Sunday 11am - 4pm
Where: Macon County Community Building
Sponsored by the Franklin Chamber of Commerce and The Gem & Mineral Society of Franklin
Rough & Cut Gems, Minerals, Fine Jewelry, Equipment, Door Prizes and Demonstrations.
Toll Free: 1-866-372-5546
November 8 – 10, 2013 Gray, TN, The Kingsport Gems and Minerals Society, Kingsport, TN announces the Gem, Mineral and Jewelry Show at East Tennessee State University and General Shale Brick Natural History Museun at the Gray Fossil Site, Gray, TN. Jewelry Repair, Stone Setting, Bead Stringing, Pearl Knotting, Wire Wrapping, Gems and Mineral Specimens. Friday November 8 0930 to 1800 Saturday November 9 0930 to 1800 Sunday November 10 1000 to 1700 For more information contact: Robert Morgan (423) 956-9486 Rowan Morgan (276) 796-4584 Velima Lawson (423) 306-6203

November 22, 23 & 24, 2013 Columbia, SC Gem & Mineral Society
46th Annual Gem, Mineral, & Jewelry Show 2013 Friday November 22, 10:00 - 7:00 Saturday November 23, 10:00 - 6:00 Sunday November 24, 12:00 - 5:00
Jamil Temple
206 Jamil Rd. Exit 106A off I -26 Columbia, South Carolina 29210
24 Retail Vendors
Jewelry, beads, loose stones, fossils, minerals, gold, silver, & tools for sale; Geodes sold & cut. Club member's rock collections on exhibit & lapidary demonstrations. Lots of fun for the whole family. Admission is $5.00 for adults, children sixteen & under are free with adult. All
military & their dependants are free. Contact information is:
Sue Shrader...Publicity...803-736-9317 ashrader@mindspring.com Fax 803-736-2578
Sharon Sterrett...Dealers...803- 356-1472 ssterrett@sc.rr.com
The society website is www.cgams.org
November 22-24, 2013 Marietta, GA
28th Annual Cobb County Gem and Mineral Society Gem, Mineral and Jewelry Show in Marietta, GA. Find amazing rocks, gemstones, minerals and fossils from all over the world! Choose from a large selection of beautiful beads, jewelry and jewelry making supplies. Fun for the whole family, with faceting and jewelry making demonstrations, a fluorescent mineral room, and many interesting displays. Hourly Door Prizes. Free Admission and Free Parking. Cobb County Civic Center, 548 Marietta Parkway, Marietta, GA. Hours: 10am -6pm November 22-23, 10am-5pm November 24.
November 23-24, 2013 Gem & Mineral Society of the Palm Beaches
Tourmaline Topaz Specimen From Pakistan Est. $450
Donated by PAK Designs
West Palm Beach, Florida
47th annual gem, mineral, jewelry, bead and fossil show.
Saturday (Nov. 23rd) 9am-6pm, Sunday (Nov. 24th) 10am-5pm.
South Florida Fairgrounds Expo Center East, Free Parking
9067 Southern Blvd., West Palm Beach Florida 33411.
Over 60 dealers, Door prizes, hourly prize drawings, Scholarship Fund raffle, Fossil Dig, Gem Mining, Geode Cracking, Displays, demonstrations, classes
Admission $7, children under 12 free. Visit website for $1 off coupon. http://www.gemandmineral.cc.
For further information contact show chairman, Barbara Ringhiser at bar5678@aol.com
November 29 & 30, December 1, 2013 Roanoke, VA Roanoke Valley Mineral and Gem Society is celebrating its 50th anniversary this year. Our annual clug show is at the Salem Civic Center, Salem, VA. Expected admission for all three days is $4.
November 29 & 30, December 1, 2013 Mobile, AL, Mobile Rock and Gem Society Annual Gem, Jewelry, Fossil and Mineral Show Abba Shrine, 7701 Hitt Road, Mobile, Alabama, Friday Nov. 29 – 2PM until 7PM, Saturday Nov. 30 – 9AM until 6PM, Sunday Dec 1 – 9AM until 5PM Show Chairperson: Jim Patterson (251) 510-8528, E-MAIL- JIMANDDE@MOBIS.COM
December 6—8, 2013, Montgomery, Alabama
The 43rd Annual Montgomery Gem, Mineral & Jewelry Show will be held at a new location, the Alcazar Shrine Temple, 555 Eastern Blvd. (Just north of Capitol Chevrolet). Show times are: Friday 9:00—6:00; Saturday 10:00—6:00; Sunday 11:00—5:00. Dealers will have beautiful handcrafted jewelry as well as unique gemstones, minerals, and fossils. Club members will display their individual collections and will give demonstrations on gem and rock cutting, faceting, cabochon making, and arrowhead knapping. Admission is free and door prizes will be given. Contact: Jane Barkley at (334) 277-2722 or Iris McGehee at (334) 262-7275.
December 14-15, 2013 Franklin, TN
Gem, Jewelry, Mineral, Fossil Show & Sale Mid-Tennessee Gem & Mineral Society
Sat: 9AM to 6PM; Sun: 10AM to 5PM
Williamson County AgExpoPark,
4215 Long Lane, Franklin, TN 37064
Exit I-65 at exit #61 (20 miles south of Nashville) and turn east onto Peytonsville Road.
Drive 1/3 mile and turn left onto Long Lane and then right into AgExpoPark's parking lot.
Demonstrations, exhibits, silent auction, hourly door prizes, grand prize, and over 30 dealers.
Beads, crystals, geodes, rough, cabochons, gem stones, finished jewelry, native jewelry, tools, supplies, mineral & fossil specimens, stone carvings and home accents.
Admission $4 (2-Day Pass $6.00), students 18 and under $1, children under 12 free with adult.
For additional information and maps visit www.MTGMS.org. Show contacts: John Stanley, Show Chair, (615) 885-5704 or Steve Henegar, Dealer Chair,
(615) 714-3194
Email contact: show@MTGMS.org
http://www.MTGMS.org/Show.htm
January 10-12, 2014 Largo, FL
The Pinellas Geological Society, Inc. announces our Thirty Eigth Annual Gem, Jewelry and Mineral Show and Sale. Friday and Saturday 10 AM to 6 PM; Sunday Noon to 5 PM at the Largo Cultural Center, Parkside Room, 105 Central Park Drive, Largo, FL. Free Admission, Donation $1.50 for drawing.
Unique jewelry has fascinated mankind since cave days. Today that still holds true as men and women create wonderful gem and mineral ornaments from nature's abundant rocks and minerals. Members of the Gem and Mineral Clubs in our area gather together monthly to share their hobby.
The members of the Pineallas Geological Society and other local Gem and Mineral Clubs will be showing their cut gems, silver and gold jewelry, wire wrap, beading, cabochons, and collections of rocks and minerals for your viewing pleasure and purchase. The show is for the public of all ages who are fascinated by and enjoy seeing and learning about nature's beauty in gems, rocks and minerals. For more information about the show or joining the club, call Leona at (727) 894-2440.
Contact Person: Leona Sheffield, Co-Chairperson; 2440 Southshore Dr., SE; St. Petersburg, FL 33705
January 18-19 2014, DeLand, FL
Tomoka Gem & Mineral Society presents our 43rd annual Jewelry , Gem & Fossil Show and Sale.
Show theme this year "Wonderful World of Quartz"
Admission: $4, Children under 12 free, Parking is free
Hours: Saturday 10am to 6pm, Sunday 10am to 5pm
Volusia County Fairgrounds, Tommy Lawrence Building, State Road 44, DeLand ,FL
( 1⁄2 mile East of I-4, Exit 118 )
With admission you have a choice of a Shark Tooth or Pink Quartz to create something that is a one of a kind at one of our free demos.
Silent auctions, Exhibits, Door Prizes, Faceting, Cabochon making, Jewelry making demonstrations.
Our vendors will have mineral and fossil specimens, lapidary material, rough, cabochons, fine jewelry and gem stones, beads, crystals, supplies and so much more. For more info: Show Chair Rosemary van Wandelen rrborzoi@yahoo.com Vendor Chair Francisca Pitts info@tomokagms.org
February 8 & 9, 2014 Merritt Island, FL 37th Annual Symphony of Gemstones show and sale Sponsored by Central Brevard Rock and Gem Club. Kiwanis Island Recreation Center 951 Kiwanis Island Park Rd. off SR 520 Exit on I95 going East, entrance is just east of the Merritt Island Mall, turn at the sign. Sat./Sun 10AM - 5 PM adults $5 ($1 discount coupon on Website) children under 12 are free accompanied by adult. Hand-crafted and fine jewelry, rough and cut gems, fossils, minerals, beads, slabs, cabs, equipment and tools. Demonstrations, hourly prizes, grand prize, children's activities and silent auction. Contact: Roz Mestre, (321) 431-0159/ (321) 632=8281 email: roz.mestre@att.net website: www.centralbrevardgems.org
February 22, 2014, Lakeland, Florida
Annual Show and Sale
Imperial Bone Valley Gem, Mineral & Fossil Society Saturday 9:30am - 4:30pm
175 Lake Hollingsworth Dr., Lakeland, Fl. 33801
Hourly door prizes, Spin & Win Mineral Wheel, Kids Treasure Dig, demonstrations and educational displays, Silent and Chinese auctions and over 30 dealers of rocks, minerals, fossils, jewelry, gifts and hobby supplies.
Contact Kim Price, Show chair, at (863) 412-9156, or email ibvgmfs@gmail.com.

March 7-9, 2014 St. Petersburg, FL, Bone Valley Gem, Mineral & Fossil Society. Website: www.bonevalley.net
44th Annual Gem, Jewelry & Mineral Show and Sale THE SUNCOAST GEM & MINERAL SOCIETY
Fri: 10 AM to 6PM; Sat: 10AM-6PM; Sun: 10am-5PM The Minnreg Building
6340 126th Ave. N., Largo, FL 33773 HOURLY DOOR PRIZES!
GRAND DRAWING AT END OF SHOW! $1.50 GRAB BAGS, FREE PARKING
15+ Dealers
Demonstration exhibits on Beading, Wire Wrapping, Cabbing, Faceting, Metal Work. Club display cases and exhibits.
Refreshments available.
Show contact: Bill Schmidt, Show Chair, 727 822-8279
Email contact: SGAMSgemshow@gmail.com http://www.sgams.com/Shows/show.html
April 26-27, 2014 Memphis, TN
Memphis Mineral, Fossil, Jewelry Show Memphis Archaeological and Geological Society
"The Earth Wide Open"
Memphis International Agricenter, 7777 Walnut Grove Rd. Memphis, TN
Saturday, April 26, 9-6:00 and Sunday, April 27 10-5,
Dealers, Exhibits, Demonstrations, Kids Area with Rockzone featuring Gem Dig, Geode Bowling, Rocks Around the Clock.
Adults $5.00, Children 12 and under $2.00.
web: www.The EarthWideOpen.com,
email info@theearthwideopen.com.
Show Chair James Butchko 901 743-0058
Dealer Chair WC McDaniel 901-274-7706


SFMS WORKSHOPS WILDACRES RETREAT & WILLIAM HOLLAND

The Southeast Federation of Mineralogical Societies, Inc. sponsors four Gem, Jewelry and Mineral workshops each year. Two are held at Wildacres Retreat, near Little Switzerland in North Carolina, and two at William Holland School of Lapidary Arts near the small town of Young Harris in northeast Georgia. Both facilities offer double accommodations with a private bath. A small number of private rooms with private baths are available. William Holland School of Lapidary Arts also has a few RV sites. In most instances your room and all meals are included in your tuition costs. Please see the Information sheet for details.
A broad range of courses related to the jewelry & lapidary arts are taught by qualified instructors from throughout the Federation. All instructors are volunteers who are not paid for the highly skilled and professional experience that they bring to the workshops.
The workshops are equipped for common lapidary activities such as cabochon cutting, faceting, and silversmithing. Additional equipment is brought in when new or special courses are taught.

For more info please visit:
http://www.sfmsworkshops.com/


Here are some photos taken at local events:
Pee Wee Mine at Hey Day, supported by S.A.M.S. volunteers.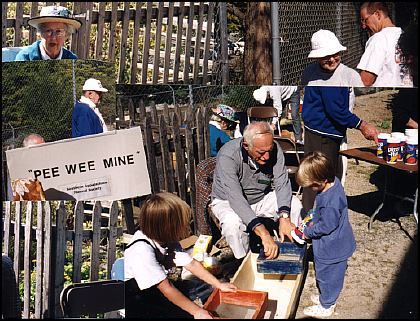 Illustration with text from LIVING FOSSILS by Anne L. Parker. Used by permission of Dr. James P. Parker.

Opal and Saphire images Copyright