Oh...weeeee...I didn't know this could be so much FUN...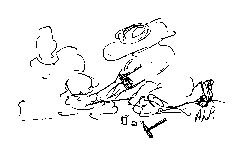 This is a listing of gem and mineral related shows and events in Asheville, NC and the Southeastern USA in general, including activities sponsored by S.A.M.S. and the Colburn Earth Science Museum. If you know of any shows or events which you feel should be listed here, please contact sams@main.nc.us with the information.
Happenings

Open Tuesday - Saturday 10 AM to 5 PM
Sunday, 1 PM to 5 PM, June through October

(828) 254-7162

COLBURN EARTH SCIENCE MUSEUM 2 S. PACK SQUARE AT PACK PLACE ASHEVILLE , NC 28801 * 828/254-7162 phone * 828/ 257-4505 fax *
Colburn Saturday Events & After School Clubs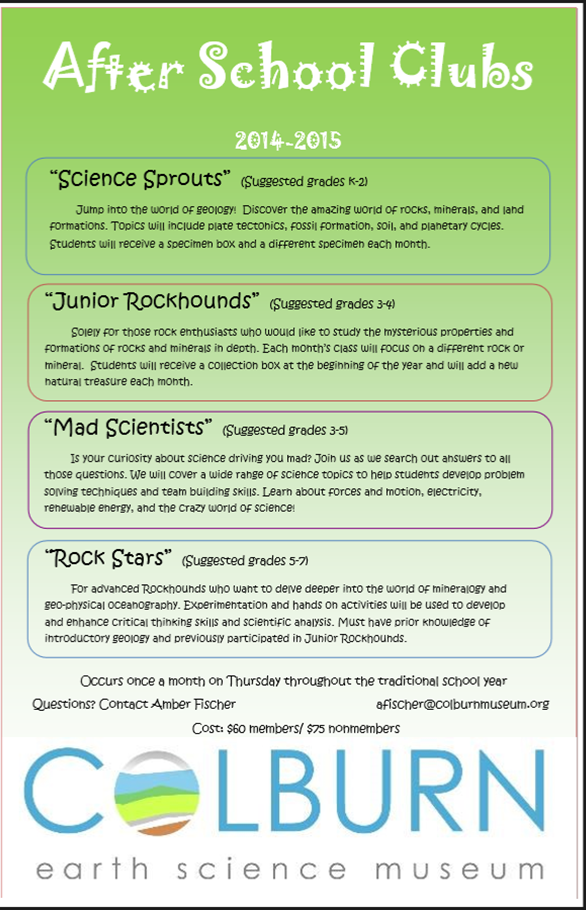 Members, join us for our after school clubs starting September 11th! Members receive a discount on all classes and FREE ADMISSION to our Super Saturday events! Email afischer@colburnmuseum.org for registration or questions.
Amber Fischer
Director of Education
Colburn Earth Science Museum
AFischer@colburnmuseum.org
Visitor services
•We are always looking for someone to help provide visitors with scavenger hunts and check people into our museum (which may also include learning how to use the register).
•Tour guide (many requests have been made by visitors. Must have some background in geology and a familiarity with our exhibits).
Behind the Scenes
•Office help (faxing, calculating, copying, writing membership cards and laminating).
•Inventory and organizing our materials (gift shop and educational).
•Possible curating work with our Board of Directors (must have a geology background).
If you would like to do any of these tasks, please email me back at afischer@colburnmuseum.org with your name, availability, which task(s) in which you would like to participate and which day(s). I will start setting up some intro volunteer training days which will happen on a Monday, when we are closed to the public. Thank you all again for your interest. This should be a fantastic summer!
Amber Fischer
Director of Educational Services

UPCOMING SHOWS:

November 20-22, 2015, Columbia, SC
The Columbia, SC Gem & Mineral Society will hold its
47th Annual Gem, Mineral, & Jewelry Show
Fri. Nov. 20, 10:00 - 6:00;
Sat. Nov. 21, 10:00 - 6:00;
Sun. Nov. 22, 12:00 - 5:00
Jamil Temple
206 Jamil Rd.
Columbia, SC 29210
Jewelry, beads, loose stones, fossils, minerals, gold, silver, & tools for sale
Geodes sold & cut
Club member's rock collections on exhibit & lapidary demonstrations.
Lots of fun for the whole family.
South Carolina amethyst on display.
$5.00 for adults, children sixteen & under are free with adult.
All military & their dependents are free.
803-736-9317 ashrader[]mindspring.com
Club website: www.cgams.org
November 21-22, 2015, West Palm Beach, Florida
Always held the weekend before Thanksgiving
49th annual gem, mineral, jewelry, bead and fossil show
Gem & Mineral Society of the Palm Beaches
Saturday (Nov. 21st) 9am-6pm, Sunday (Nov. 22nd) 10am-5pm.
South Florida Fairgrounds Expo Center East, 9067 Southern Blvd., West Palm Beach Florida 33411.
Over 80 dealers, Door prizes, hourly prize drawings, Scholarship Fund raffle, Fossil Dig, Gem Mining, Geode Cracking, Displays, Demonstrations, Speakers
Admission $9, children under 12 free. Visit website for $2 off coupon. 2 day admission $12. Free Parking
Show chairman, Jeff Slutzky 561-585-2080
email: show[]gemandmineral.cc
http://www.gemandmineral.cc
November 28-30, 2014, Roanoke, VA
Roanoke Valley Mineral & Gem Society, in Roanoke, VA, is celebrating its 50th anniversary this year.
Our annual club show is the Fri-Sun after Thanksgiving at the Salem Civic Center, Salem, VA. Expected admission for all three days is $4.
November 28, 29 & 30, 2014, Mobile, AL
Mobile Rock and Gem Society Annual Gem, Jewelry, Fossil and Mineral Show
Abba Shrine, 7701 Hitt Road, Mobile, Alabama
Friday Nov. 28 – 2PM until 7PM
Saturday Nov. 29 – 9AM until 6PM
Sunday Nov. 30 – 10AM until 5PM
FREE PARKING
Admission: $5 Door prize ticket w/each paid admission
12 and under FREE with adult admission
$1 off coupon available at www.mobileorckandgem.com
Show Chairperson: Jim Patterson (251) 510-8528
E-MAIL- JIMANDDE[]MOBIS.COM

December 4, 5 & 6, 2015, Marietta, GA
Please note show date and location changed this year due to renovation of Civic Center.
30th Annual Gem Mineral and Jewelry Show
Cobb County Gem and Mineral Society
Friday 10 to 6, Saturday 10 to 6, Sunday 10 to 5
Show location this year only. Jim R. Miller Park, 2245 Callaway Rd.,
SW, Marietta, GA 30008-4440
We have over 35 of the top dealers attending this year making for great shopping just in time for the holidays. There will be one of a kind Rare Mineral Specimens and Rock and Mineral Exhibits. A large amount of Jewelry making equipment and finished Jewelry. Hourly Door Prizes, Special drawings for the Kids and free mineral ID classes on Fri. & Sat. Over 1000 Geodes and Grab bags.
For more info go to cobbcountymineral.org or find us on Face Book at Cobb County Gem and Mineral Society Annual Gem and Mineral Show
Dec 4-6, 2015, Montgomery, Alabama
The 45th Annual Montgomery Gem, Mineral & Jewelry Show
Montgomery Gem & Mineral Society
Garrett Coliseum
1555 Federal Drive
Montgomery, Alabama
Show Times:
Friday, December 4: 9 AM - 6 PM
Saturday, December 5: 10 AM - 6 PM
Sunday, December 6: 11 AM - 5 PM
Admission: $2/Adults or $3 for weekend pass
Free/18 & Under with student ID and 1 paid adult ticket.
Free Parking.
Free door prize ticket with each paid adult admission.
Dealers will have beads, crystals, geodes, rough, cabochons, gem stones, finished jewelry, tools, supplies and mineral & fossil specimens. Club members will display their individual collections and will give demonstrations on gem and rock cutting, faceting, cabochon making, and knapping. $1 Wheel of Fortune.
Web Site: http://www.montgomerygemandmineralsociety.com/#!annual-gem-show
NOTE: The show starts on Friday and is always held the first full weekend (Saturday & Sunday) in December. The 2018 show would start on Nov 30th.

December 12-13, 2015, Franklin, TN
2nd weekend each December
Gem, Jewelry, Mineral, Fossil Show & Sale
Mid-Tennessee Gem & Mineral Society
Sat: 9AM to 6PM; Sun: 10AM to 5PM
Williamson County AgExpoPark,
4215 Long Lane, Franklin, TN 37064
Exit I-65 at exit #61 (20 miles south of Nashville) and turn east onto Peytonsville Road.
Drive 1/3 mile and turn left onto Long Lane and then right into AgExpoPark's parking lot.
Demonstrations, exhibits, silent auction, hourly door prizes, grand prize, and over 30 dealers.
$1 Wheel of Fortune. Beads, crystals, geodes, lapidary & faceting rough, slabs, cabochons, gem stones, finished jewelry, native american jewelry, tools, supplies, mineral & fossil specimens, and stone carvings.
Admission $4 (2-Day Pass $6.00), students 18 and under $1, children under 12 free with adult.
For additional information and maps visit www.MTGMS.org.
Show contacts: John Stanley, Show Chair, (615) 763-5704 or Steve Henegar, Dealer Chair,
Email contact: show[]MTGMS.org
http://www.MTGMS.org/Show.htm
January 8-10, 2016, Largo Fl.
The Pinellas Geological Society
40th Annual Gem. Jewelry and Mineral Show
Friday, January 8, 10 AM - 5 PM
Saturday, January 9, 10 AM-5 PM
Sunday, January10, noon - 5 PM.
Largo Cultural Center, 105 Central Park Drive, Largo, FL .


SFMS WORKSHOPS WILDACRES RETREAT & WILLIAM HOLLAND

The Southeast Federation of Mineralogical Societies, Inc. sponsors four Gem, Jewelry and Mineral workshops each year. Two are held at Wildacres Retreat, near Little Switzerland in North Carolina, and two at William Holland School of Lapidary Arts near the small town of Young Harris in northeast Georgia. Both facilities offer double accommodations with a private bath. A small number of private rooms with private baths are available. William Holland School of Lapidary Arts also has a few RV sites. In most instances your room and all meals are included in your tuition costs.

A broad range of courses related to the jewelry & lapidary arts are taught by qualified instructors from throughout the Federation. All instructors are volunteers who are not paid for the highly skilled and professional experience that they bring to the workshops.

The workshops are equipped for common lapidary activities such as cabochon cutting, faceting, and silversmithing. Additional equipment is brought in when new or special courses are taught.

For more info please visit:
http://www.sfmsworkshops.com/


Here are some photos taken at local events:
Pee Wee Mine at Hey Day, supported by S.A.M.S. volunteers.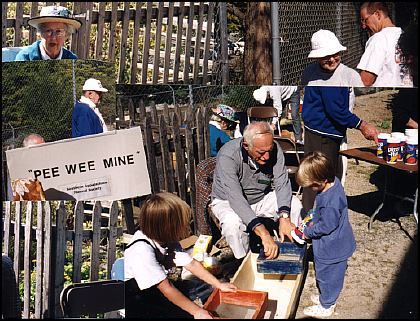 Illustration with text from LIVING FOSSILS by Anne L. Parker. Used by permission of Dr. James P. Parker.

Opal and Saphire images Copyright