This is the Web version of the current issue of the Mountain Mineral Monthly, S.A.M.S. newsletter. The newsletter may also be viewed or downloaded as a pdf. The version sent to members, either by post or e-mail includes complete field trip details. For selected articles which have been published in past issues, see Geolore.
Obicular gabbro diorite...obicular gabbro diorite...bet nobody thought I'D find any.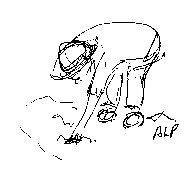 Newsletter of the Southern Appalachian Mineral Society, Inc.
MOUNTAIN MINERAL MONTHLY
Volume 87 March 2018 Number 3

S.A.M.S. Monthly Meeting
Monday, March 5, 2018 7:00 PM
Tuton Hall Community Center
Deerfield Retirement Community
Asheville, North Carolina
MARCH PROGRAM
"Middle Earth, Dinosaur Era on the Colorado Plateau"
Bob Seymour
SAMS member, Bob Seymour will talk about the geology and ecosystems that evolved on the Colorado Plateau in those times along with photos of places visited like Dinosaur National Monument and Dinosaur Ridge near Denver.
PRESIDENT'S MESSAGE
Hello. Little to report this month. I have been away in Northern Indiana attending to family, so I could not go on the DMC trip to Summerville, Ga. However, for less than the price of gas, I did snag a few Agates from there. The mineral of the month is guess what - Favorite Finds!
I am happy to report that Eric, Joe, Wayne, and with input from Lowell, will serve as a field trip advisory committee. We should have something coming up in March, but unsettled at press time.
Lowell seems to be recovering well, and sends his regards to all. Get well soon Lowell!.
Ken Casebeer


SAMS 2018 MEMBERSHIP RENEWALS!
If you haven't renewed yet, please fill out the 2017 Membership form found at:
http://www.main.nc.us/sams/MembershipForm2018.pdf
and mail along with your check. Thank You!

Mineral of the Month:
Favorite Finds
(Bring to the Meeting)
SOUTHERN APPALACHIAN MINERAL SOCIETY
Minutes for Feb. 5, 2018
GENERAL
The Southern Appalachian Mineral Society
held its February meeting in the Community
Room of Tuton Hall at Deerfield on Monday, Feb. 5, 2018. The meeting was called to order at 7:01 PM by President Ken Casebeer
The motion was made to approve the minutes of the Dec. 5, 2017 meeting as published in the newsletter. Motion was seconded and approved unanimously. Treasurer Rhonda Ashley provided a report of our financial status. Motion to accept the Treasurer's report was made, seconded and approved by the members.
20 members and 2 guests were in attendance.
FIELD TRIPS
No field trips are planned because of poor weather and low attendance.
PROGRAM
The scheduled speaker could not come. Vice President Wayne Steinmetz presented a video from the Great Courses series, on Fossils in the Burgess Shale.
Program ended at 7:45 pm.
The winners of the doorprizes were:
Bobby Ellis - Amazonite
Kathleen Munroe – Petoskey stone donated by Mike Knapp
Chuck Camper – polished agate
Ed Kostansek – selenite
Andy Worley – ½ geode
As a reminder, the winners are requested to
write and submit to the newsletter a brief
article about their specimen.

Displays provided by:
Ken Casebeer – fossils
Wayne Steinmetz – fossils
Eric Ashley – fossils
Kathleen Munroe – Florida fossils
Refreshments were provided by the staff at Deerfield. Members socialized and viewed specimens brought in by members.
Respectfully submitted.
Kathleen Munroe, Secretary
INCLEMENT WEATHER STATEMENT
If the Asheville City Schools are closed on meeting day, then the S.A.M.S. meeting will be cancelled
Welcome New S.A.M.S. Member
Jeff MacFawn - Harwich, MA
S.A.M.S. MARCH FIELD TRIP - To be announced.

March Birthdays
Judy Van Eyk March 2
Jewell Seymour March 5
Rhonda Ashley March 6
Dixie Mineral Council Field Trip
The Southeast Federation of Mineralogical Societies, Inc.
An Official Field Trip of the Mid-Ga Gem & Mineral Society (Macon, GA) (HOST)
An Official Field Trip of the Southern Appalachian Mineral Society

Saturday, March 10, 2018
Clarkesville, GA
10:00 AM Eastern (9 am Central)
Fee: $10 per person
TRIP: This site is located in a band of kyanite bearing material. The material has been moved around so the kyanite is not in situ. Small blades are easy to find, but digging and some perseverance is required to find the larger specimens. This site is a fun and productive site for all ages.
COLLECTING: Kyanite blades and cobbles, small mica books, and graphite specimens (rare). The kyanite ranges from gray to pale blue and may contain graphite. Some of the blades can be polished and, because of the graphite, they have a curious depth and shimmer when they are polished.
FEE: $10 per person
BRING: Small blades can be found weathering out onto the surface. Bigger blades and cobbles are found by digging 8" to 24" deep. You will need scratching tools and baggies for surface collecting, and a shovel and pick for digging. All holes must be refilled. This site can be muddy at times, so a change of clothes would be good too.
FACILITIES: There are no bathroom facilities at the site, but there is a McDonald's Restaurant in Clarksville and also restrooms at a public park a few miles from where we will be collecting.
CHILDREN: This field trip is suitable for children but they must be supervised at all times.
PETS: Because this is a working farm, pets are not allowed.
SAFETY: There are electrified fences on the farm so do not touch any fences. Field trip leads will open and close gates. This is a working farm and there may be animals present – do not approach any of the animals. Do not enter pastures where animals are present.
DIRECTIONS AND WHERE TO MEET: For Members Only
CONTACT: Jay Batcha: cell: 478-957-5002, home: 478-784-1965
DIXIE MINERAL COUNCIL FIELD TRIPS
Field trips are open to all members of associated clubs of the DMC program of the SFMS Field Trip Committee and to all members of SFMS member clubs who have provided their membership with SFMS liability insurance. Because of insurance requirements, members of the GENERAL PUBLIC are NOT invited on any DMC program field trips.

Doorprize Report on Petoskey Stones
Kathleen Munroe
These are a fossilized coral – Hexagonaria percarinata. They are fragments of a coral reef that was originally deposited during the Devonian period (350 million years ago). It is formed as a result of glacial action 2 million years ago in which sheets of ice took stones from the bedrock and ground and smooth them.
Most stones are found on the northwest coast of Michigan's lower peninsula, on beaches near the towns of Petoskey and Charlevoix. They can also be found in inland areas. This type of coral is also found in Iowa, Indiana, Illinois, Ohio and New York in the U.S.
It is the state stone of Michigan.

Newsletter Deadline
The deadline for the April 2018 issue of the Mountain Mineral Monthly is:
March 14, 2018
Agates
Agate is a rock consisting primarily of cryptocrystalline silica, chiefly chalcedony, alternating with microgranular quartz. It is characterized by its fineness of grain and variety of color. Although agates may be found in various kinds of host rock, they are classically associated with volcanic rocks and can be common in certain metamorphic rocks
Agate was given its name by Theophrastus, a Greek philosopher and naturalist, who discovered the stone along the shore line of the river Achates (Greek: ?χ?της) in present-day Sicily, sometime between the 4th and 3rd centuries BC. Colorful agates and other chalcedonies were obtained over 3,000 years ago from the Achates River, now called Dirillo.
Agate is one of the most common materials used in the art of hardstone carving, and has been recovered at a number of ancient sites, indicating its widespread use in the ancient world; for example, archaeological recovery at the Knossos site on Crete illustrates its role in Bronze Age Minoan culture.
Most agates occur as nodules in volcanic rocks or ancient lavas, in former cavities produced by volatiles in the original molten mass, which were then filled, wholly or partially, by siliceous matter deposited in regular layers upon the walls. Agate has also been known to fill veins or cracks in volcanic or altered rock underlain by granitic intrusive masses. Such agates, when cut transversely, exhibit a succession of parallel lines, often of extreme tenuity, giving a banded appearance to the section. Such stones are known as banded agate, riband agate and striped agate.
In the formation of an ordinary agate, it is probable that waters containing silica in solution—derived, perhaps, from the decomposition of some of the silicates in the lava itself—percolated through the rock and deposited a siliceous gel in the interior of the vesicles. Variations in the character of the solution or in the conditions of deposition may cause a corresponding variation in the successive layers, so that bands of chalcedony often alternate with layers of crystalline quartz. Several vapour-vesicles may unite while the rock is still viscous, and thus form a large cavity which may become the home of an agate of exceptional size.
Excerpt from Wikipedia

UPCOMING SHOWS
March 2-4, 2018, Athens, Georgia, Athens Rock, Gem, Mineral, Fossil, and Jewelry Show!, Southeastern Mineral Specimens, The Classic Center; 440 Foundry Street, The Pavilion; Fri. 10-6, Sat. 10-6, Sun. 11-5; Adults $5, Children under 15 and under free; contact Mark Woods, 515 Tallassee Road, Athens, GA 30606, (706)-296-9467; e-mail: darklighter@bellsouth.net; Web site: https://www.facebook.com/SoutheasternMineralSpecimens/
March 9–11, 2018, 30th Annual Aiken-Augusta Gem, Mineral & Fossil Show, Fri & Sat 10–6 / Sun 10–5, Kids under 12 FREE with one Adult admission: $3/day or $5 weekend pass, 50¢-off admission coupon on our websites, Julian Smith Casino, 2200 Broad St. Augusta, GA, Diamonds, sapphires, tanzanites, emeralds and other fine jewelry. Gorgeous everyday jewelry, mineral lamps, art objects, and beads. Fabulous fossils and minerals from around the world. Jewelry making and cabochon cutting demos. Kid's Treasure Dig, Grab Bags, Geode cutting, Member case displays, Educational resources. FREE "Adopt-a-Rock" to every child. Sponsored by the Aiken Gem, Mineral & Fossil Society http://www.aikengmfs.org
Augusta Gem and Mineral Society http://agams.club, Concessions benefit Relay for Life, Show Chair: Chris Glass 706-284-9239
March, 16-18, Arden, NC, M.A.G.M.A Annual Show, Camp Stephens; 263 Clayton Road; Fri. 9-5, Sat. 9-5, Sun. 10-4; Free Admission; Numerous indoor and outdoor vendors specializing in gems, minerals, fossils, meteorites and artifacts from North Carolina and around the world. ; contact Richard Jacquot, PO Box 542, Leicester, NC 28748, (828)-779-4501; e-mail: rick@wncrocks.com; Web site: www.americanrockhound.com
March 23-25, Hickory, NC, Annual Show, Catawba Valley Gem & Mineral Club, INC, Hickory Metro Convention Center; 1960 13th Ave. Drive SE; Fri. 9-6, Sat. 9-6, Sun. 10-5, Admission $5, Children 12 & under free; Chaperoned school, boy or girl scouts, 4 H, church youth, day care, retirement home groups, law enforcement officers and military in uniform will be admitted free anytime during this 3 day event. The 2018 show theme, "Treasures in Our Back Yard, Gems and Minerals of the Catawba Valley" will be highlighted with displayed discoveries of several club members and other well-known collectors in the Catawba Valley area. Focal displays will include emeralds, rutile, hiddenite, quartz, amethyst, etc. Plans also call for presentations about gem and mineral collecting in the area by well-known rock hounds and experts in the field on Saturday, March 24. ; contact Dean Russell, 5254 Olde School Drive, Hickory, NC 28602, (828)-303-1448; e-mail: cvgmcsecretary@aol.com; Web site: cvgmc.com

THE MOUNTAIN MINERAL MONTHLY
The Newsletter of the Southern Appalachian Mineral Society, Inc. is published monthly except in January. Articles and information can be mailed to: The Southern Appalachian Mineral Society, Inc., Post Office Box 15461, Asheville, NC 28813 or e-mailed to: sams@main.nc.us
Disclaimer: Articles are published as received, without technical reviews or edits.
Copyright 2017 by the Southern Appalachian Mineral Society, Inc., except for items that are specifically copyrighted by their authors. Other societies may use material published in the Mountain Mineral Monthly, provided that proper credit is given and the meaning of the material is not altered.
Officers:
President: Ken Casebeer ...... 277-1779
1st V.P.: Wayne Steinmetz .... 505-7973
2nd V.P.: Tim Barton ............ 885-8248
Secretary: Kathy Munroe ..... 676-7605
Treasurer/Membership:
Rhonda Ashley ...................... 749-1655
Newsletter & Website Editor :
George Schissler .................... 298-2951
920 Long Branch Rd., Swannanoa, NC 28778, sams@main.nc.us
Ex-Officio: Rudolph Olson III
Directors:
Ann Enderle ............. 670-1996
Joseph Enderle .......... 670-1996
Donald Hathaway ...... 254-8942
Seth Woodall ............. 582-6719

Illustration with text from LIVING FOSSILS by Anne L. Parker. Used by permission of Dr. James P. Parker.

Malachite image Copyright