Here are some links to affiliated organizations and other sites of interest.
American Federation of Mineralogical Societies
The national federation of the Southeast Federation of Mineralogical Societies and six other regional federations, of which S.A.M.S. is a member.
Southeast Federation of Mineralogical Societies
The regional federation of gem, mineral and lapidary societies, of which S.A.M.S. is a member. They sponsor numerous workshops and field trips of the Dixie Mineral Council. They also offer our club liability insurance for field trips and meetings.
Seth's Links
Here is a list of links for geology web sites presented by SAMS member Seth Woodall at our August 2014 meeting.
Dixie Mineral Council
This is a program of the Southeast Federation of Mineralogical Societies which organizes monthly field trips, led by member clubs and are only open to members of those clubs.
Asheville Museum of Science - The former Colburn Earth Science Museum in downtown Asheville. Check out the History page on this site to learn about S.A.M.S. and the museum's common origins.
The Compleat Naturalist - Local Asheville store with books and supplies for the rockhound and naturalist.
Lowell Presnell is a native of North Carolina and a descemdemt of a mining family. He is a member of the Southern Appalachian Mineral Society. In his book, "Mines Miners and Minerals", Lowell recorded the tales of old-timers as they talked about discovering huge books of mica, outrunning muck cars, and finding out in the nick of time that a mine has bad air. He excavates a wealth of information in this historical narrative. The reader is taken back in history to learn of the ancient and historical nature of Western North Carolina and surrounding areas of natural wealth.
Order from Amazon.com
International Gem Society Reference Library - Numerous articles related to all things gemstone and mineral.
McRocks - Website of Mike Streeter, author of "A Rockhounding Guide to North Carolina's Blue Ridge Mountains". Order the book and check out his collection of field trip reports.
GEM5.com - A free website with a large database of detailed gem & mineral descriptions and photos. The database can be searched by name and color.
Old Pressley Saphire Mine near Canton, North Carolina
Ruby City Gems in Franklin, North Carolina
MAIN provides web hosting for S.A.M.S.
theImage.com - Photos of many minerals and gems, some of which are used on this site.
Yoo... Whoooo...wait for me...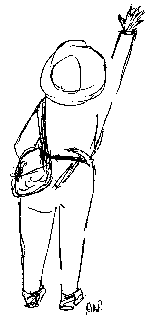 Franklin (Macon County), NC Area Gem Mines
Spruce Pine (Mitchell County), NC Gem Mines and Shops
Thermal City Gold Mine, Rutherford County, NC
Bob's Rock Shop - Online publication for rockhounds and lapidary hobbyists.
North Carolina Geological Survey
National Oceanic and Atmospheric Administration (NOAA)
National Geophysical Data Center
USGS EarthExplorer - Find and order aerial photos for the USA
USGS Store - Find and order topographic maps for the USA
| | |
| --- | --- |
| | Site designed and maintained by George Schissler. Questions about S.A.M.S. or comments about this site? Please send a message to sams@main.nc.us or call: (828) 285-9470 |


Illustration with text from LIVING FOSSILS by Anne L. Parker. Used by permission of Dr. James P. Parker.


Hessonite image Copyright