... Blacksmith shop
Welcome to Sweetwater forge.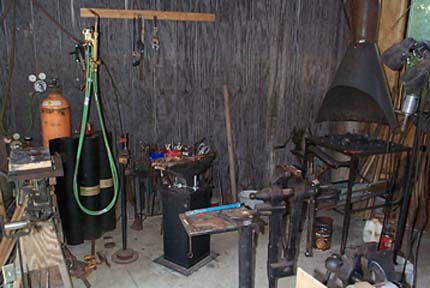 Don't look like much does it? Well be patient, I'm still working on it.
The forge has a firebox made from a dutch oven. Five bucks at a flea market! I've been using it for years with no problems. It teaches fire control.
A hand crank blower teaches fire control too, it keeps you right there to monitor the fire.
The anvil stand is a box containing a column of sand, it gives a good solid base, no bounce, but it takes a long time to compress to where you don't have to keep adding sand. I'm thinking it might be better to fill it with concrete to within a few inches of the top. You'd still have some cush and the height adjustment from the sand but not the compression problem.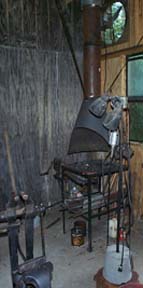 The hood and chimney pipe were all gifts or salvage. The price was right and, although, it came from three or four different sources it all fit together into exactly the right size unit. Well... actually, it's eight inch pipe and it should be at least twelve. But, with proper fire control that's not a problem.
That's a paint shop exaust fan up above the forge, it's noisy but it'll draw the smoke out if I let the fire get large enough to smoke.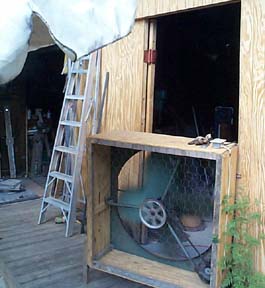 When the weather is warm I have another fan for the other side of the shop. With both fans going the shop has a nice cool breeze going... about mach 3.
You'd think that would solve the smoke problem, and it does... except if you get between the door fan and the forge you create a wind shadow that sucks the smoke right up into your face. Like I said, I'm still working on it. The best solution I've found so far is to wait for cold weather to do blacksmithing.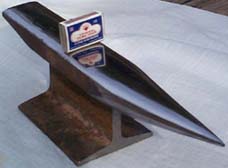 Here's a project I just finished. An anvil made from a piece of rail. I've always seen them burned out, but I'm not so hot with a cutting torch, so I sawed this one. A little grinding and polishing and it's suitable for jewlery work.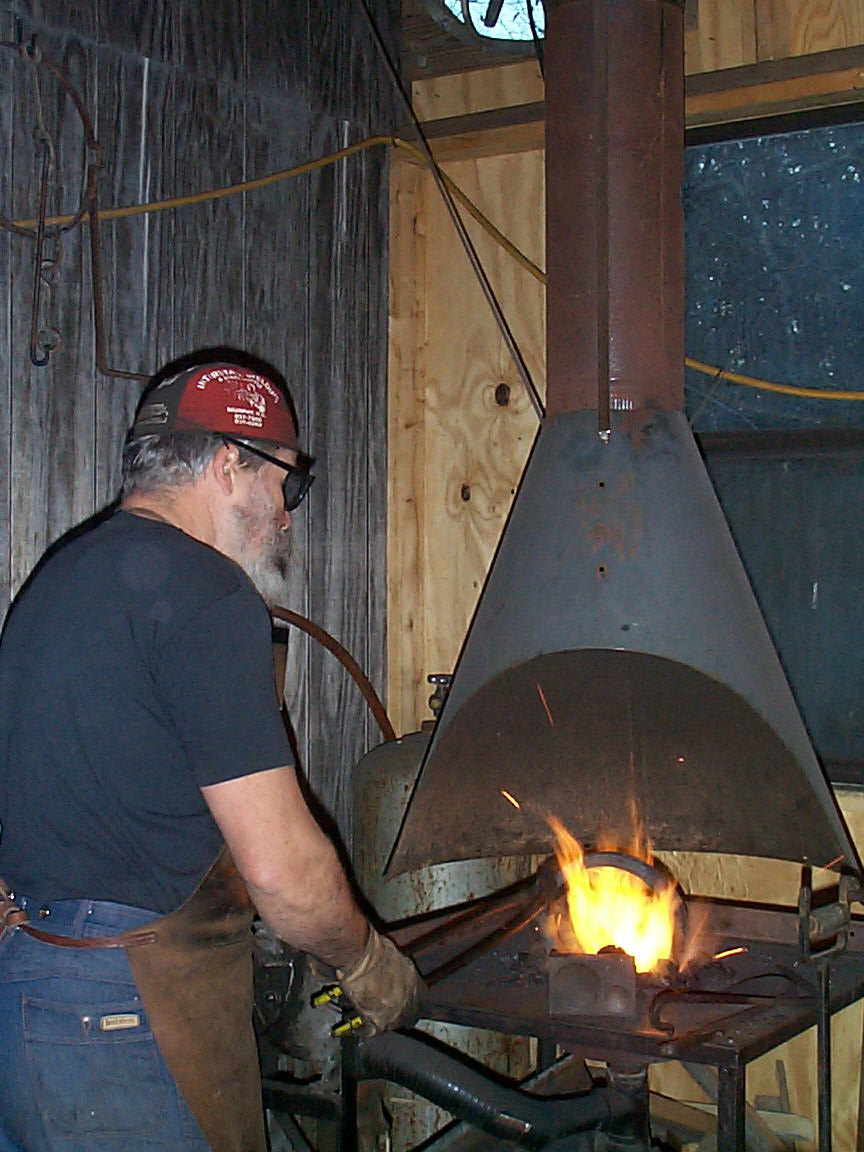 Sweetwater Clay & Leather Canvas & Steel
P.O. Box 262
Hayesville, NC 28904
(828) 389-4028
sweetwater@webworkz.com