...Canvas...
Custom Canvas Tipi's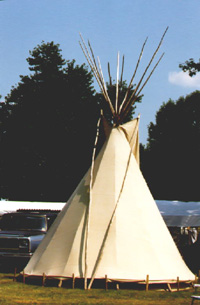 Cheyenne/Sioux style tipi
available in sizes 14', 15', 16', 17', and 18' (average diameter). Price includes cover, door, one piece 6' high lining and all attached ropes. Tipi sizes 14' through 17' are pitched on a base of 12 poles, with 2 additional poles to control the smoke flaps. 18' tipi is pitched on a 15 pole frame. Cover is reinforced at the bottom of the smoke flaps where they attach to the lacing pin strip, and from the tie flap to the smoke flaps with quick drying bias cut canvas strips, not leather. Smoke flap poles sit in well reinforced pockets attached to the smoke flaps. The smoke flaps are reinforced with rope sewn into its hem at top and along its length. Top and bottom of the lining attaches to each pole, eliminating the need for additional ropes or stakes, and allowing for a tight, tidy fit. An additional strip of cloth (of rot resistant acrylic "Sunbrella") is added to the bottom of the lining to allow it to turn under at ground level, sealing out drafts.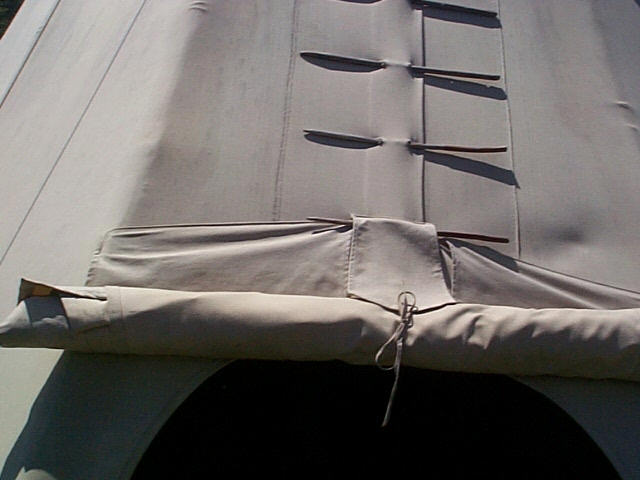 Door cover attaches under a cape above the door opening, minimizing leakage. Door is stretched wide to cover the opening with hand shaped wood. Attachments securely fasten door even in a blow. Hand sewn buttonholes eliminate drips at the lacing pins. Door opening size and height to first lacing pin can be adjusted somewhat to suit you.
Painting of lining in traditional geometric (feminine) styles is available.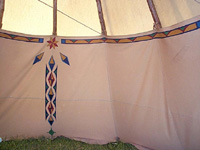 Canvas used is 100% cotton duck, marine finish boatshrunk "Weathermate" or "Sunforger" - water repellent and mildew resistant, in your choice or "natural" or "buckskin" color. Cover and Door are 13 oz. material, lining is 10 oz.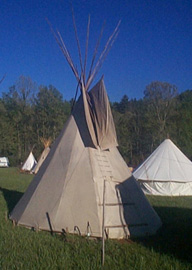 Prices (as of July 2004) for tipi cover, lining, door, and attached ropes:
14' $740
15' $805
16' $870
17' $935
18' $1100
Ozan: +$100
Lacing pins, rain sticks, smoke flap tie-off poles, and main rope are available at additional cost.
Poles and stakes are often available depending upon my supply, please contact me for price and availability. I will be happy to help you with specifications for all wood items if you wish to do them yourself, or help you find a good supplier.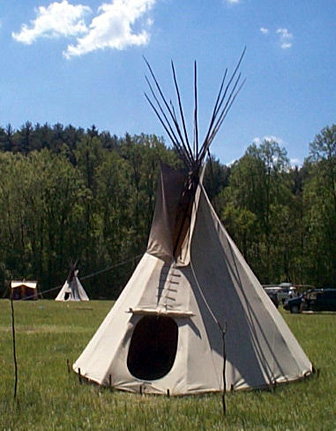 to order:
Write, phone, or e-mail. We accept checks/money orders, and VISA/MC. We pride ourselves in our attention to detail in our craft - if you are not satisfied with something, please call us. Items are crafted for you when you order. A deposit of approx. half the cost is requested (sufficient to purchase material) when you place your order - balance due upon shipment. If you have a deadline for receiving your tipi, please discuss it with us up front.
Joan Candalino
Sweetwater Clay, Canvas, & Steel
Hayesville, Nc 28904
(828) 389-4028
sweetwater@sweetwatertipi.com
http://www.sweetwatertipi.com