The Setting

| The Players | The Plot | MTA Callboard | MTA Events | MTA Officers | The Cast | Links |
| MTA Theatre Calendar |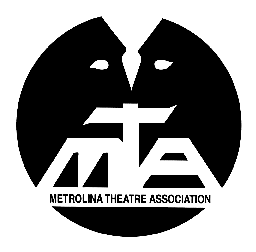 Welcome to
The Metrolina Theatre Association
Home Page

The Setting



The Metrolina Theatre Association (MTA) debuted on April 1,1984 in response to a need for a group supporting theatres in Charlotte-Mecklenburg and the surrounding area. MTA formally organized in June of that year to provide support, networking, and enhanced communication for this theatre community.
Back to Top

The Players

Offering support to all levels of area theatre, MTA currenty serves approximately 67 members and maintains contact with 50 additional theatre companies. Supporting theatre is synonymous with nurturing the love of the arts. MTA's members include:
These may include, but are not limited to, managing directors, artistic directors, faculty members, board members, technical staff, and auxiliary staff. MTA primarily supports theatrical groups but individuals not directly affiliated wit h specific organizations may join. MTA is governed by an Executive Committee elected by the current membership.

The Plot

The love of theatre as an art form establishes a common bond between all members. Although MTA is not a producing organization, its mission is " support and promote the growth of dramatic arts in the Metrolina area through member-group cooperation" by:

Back to Top

The Cast
Is there a part for you? Join a company of professionals, those who love the theatre, those who nurture the arts.
Back to Top

Links
Here are some theatre related sites on the web we have found useful.

Let us know if any of the links do not work. Or, if you have got a site you would like to see added to the list, let us know that too.

Back to Top


Created by Tom Hollis@cpcc.cc.nc.us