M A R A
McDowell Amateur Radio Association
Physical Address 29 N. Garden St Suite 1
Mailing Address 60 E Court St
Marion, NC 28752

Club e-mail Club call W4HOG


Club Officers

|


Directors


2018

|

2017-2018

2018-2019


Pres

Calvin Philbeck

WD4PVE
|


Joey Hemphill
KF4SKY

Ron Johnston

KI4ZUE

V P

Peter Lamb
KM4DNU
|

Larry Withrow
AF4HX
John Coley
KG4LEV
Sec/Treas

Becky Johnston

KI4ZUJ
|

Jason Ross
KG4RVN
Chris Betchel
KM4DNX
2018 dues are due in January - $25.00 ($30.00 for family)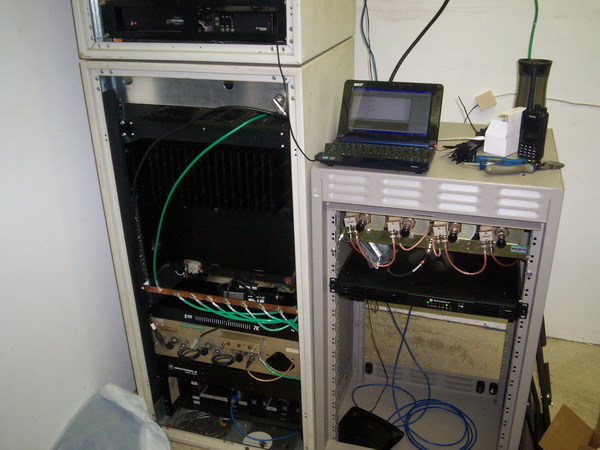 Grants Mountain 146.985 repeater (left) and 444.850 DMR repeater (right)
In November, ARES and Emergency Management conducted a Simulated Emergency Test (SET) to determine the ability (or inability) of McDowell county's Emergency Services agencies (police, fire, EMS, Public Health, etc.) to maintain communications in the event of the loss of the repeaters on Grant Mountain. The Emergency Services bus was set up at the Visitor Center on the bypass as the command and communications center for the exercise. Antennas sprouted up everywhere like weeds. And there were sufficient quantities of coffee, donuts and pizza on hand to keep everyone energized.
The weather couldn't have been better for the exercise - sunny & warm, low humidity and a nice breeze. Extremely nice weather for the middle of November. However, these same conditions contributed to several brush fires in the area caused a couple of fire stations to curtail their participation in the exercise. But overall, the exercise was very successful. A few areas of limited or no communication capability were identified. The causes of these problems were determined to be defective equipment, improper equipment installation or signals blocked by topography. However in all cases, the utilization of mobile ham equipment in these problem areas provided full communication capabilities.
A great big thank you goes out to everyone who participated to make this a successful exercise.
MARA weekly net meeting on 146.985
Tuesdays, 8:30 PM except club meeting nights.

Net Control Schedule:
| | |
| --- | --- |
| Week 1 | Eddie Epley, KD4PXY |
| Week 2 | Club meeting night - no net |
| Week 3 | Don Beam, KK4NI |
| Week 4 | John Coley, KG4LEV |
| Week 5 | Gretta Lamb, KM4LCW |
Club meetings: Second Tuesday of each month, 7:00 PM
Meetings are held behind the Red Cross building, corner of Garden and E. Court, Marion, NC

Club House coordinates: 35° 41' 6" N 082° 0' 31" W, Grid Sq EM85XQ

License testing first Saturday each month, 8:30 AM registration. (no testing in September)